Home Prices Continue To Drop In 1Q 2010
The Obama administration's tax credit notwithstanding, U.S. home prices fell again in the first quarter of 2010, leaving nearly one-fourth of single-family homes with an underwater mortgage.
The housing market has received alternatively good and bad news from different metrics in recent weeks. Sales numbers went up in March, as the government's tax credit for first-time homebuyers fueled the market. But the home value numbers released by real estate website Zillow.com paint a less optimistic picture of the market's future.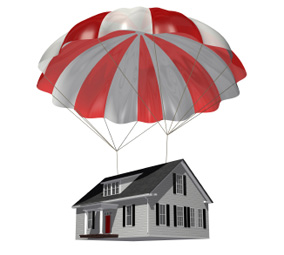 Home Prices Fall Nearly 4% From Early 2009
Home prices across the nation fell by 1% in the first three months of 2010, bringing prices to 3.8% lower than they were one year earlier. U.S. home prices have fallen for 13 consecutive quarters. The average home price is now $183,700.
Another drop in prices hurt homeowners saddled with mortgages. In the first quarter, 23.3% of mortgages on American single-family homes were underwater, meaning the amount owed on the mortgage exceeded the home's value. Those underwater mortgages often become defaults or foreclosures.
Zillow economists said the tax credit may have boosted the month-to-month sales numbers but did not fix the overall crisis faced by the U.S. housing market.
"We continue to have concerns about other factors playing out in markets across the country," Zillow chief economist Dr. Stan Humphries said in a release. "We suspect that the homebuyer tax credits are, for the most part, stealing demand from later this summer, rather than creating new demand.
"Even with the tax credits in place during the first quarter, inventory levels were rising, and home values continued to decline at a steady clip, rather than steadying."
Humphries said he expected home values to bottom out in the third quarter of 2010 before reaching a low plateau that could last up to five years.
Prices Down Across Majority of U.S.
Mortgage rates — which you can view and compare here — remain low after taking a plunge in late 2008. Despite the relatively low rates, foreclosures hit a new peak in March, with 0.11% of U.S. homes going into foreclosure during the month.
While financially troubled metro areas such as Detroit, Las Vegas, Phoenix and Tampa experienced price drops of 12% or greater, big and previously hard-hit markets such as Los Angeles, San Diego and San Francisco showed signs of stability. Prices rose by at least 3% in each of those metro areas.
"It's a very positive sign that several large markets have hit what appears to be a tentative bottom in home values," Humphries said. "While this is no guarantee that home values there will not fall again, it is more likely than not that they will remain above their lowest point last year."
Of the 135 markets tracked by Zillow, 106 experienced drops in average home value.
Ask a Question