iPad Popular Among Rich, Finance-Minded
The iPad is a handy tool for watching video, reading books or playing games. But it could also be a fairly impressive status symbol, according to a Yahoo! study.
Yahoo! broke down the iPad's user demographics by gender, wealth, age and area of interest. Some numbers were surprising, others less so. But the bottom line was that iPad users are usually male, wealthy and interested in finance.
iPad Users Richer Than Average
According to the study, the first round of people to purchase an iPad were 94% more likely to be affluent with solid wealth and strong incomes than a typical U.S. Yahoo! user.
The wealth of the typical iPad user is not surprising: The tablet costs between $499 and $829 and is still considered a luxury item rather than a must-have. Despite the hefty price tag, the iPad has been enormously popular, selling 300,000 units in its first day on the market and 1 million in its first month.
iPad users were 2.1 times more likely than the average Yahoo! user to visit finance-based websites. This could be a good sign for app developers interested in creating banking or stock information apps. Companies such as Thomson Reuters, E*Trade and MarketScan have already entered the market with affordable stock-tracking apps, and the iPad's built-in browser makes checking up on personal finances convenient.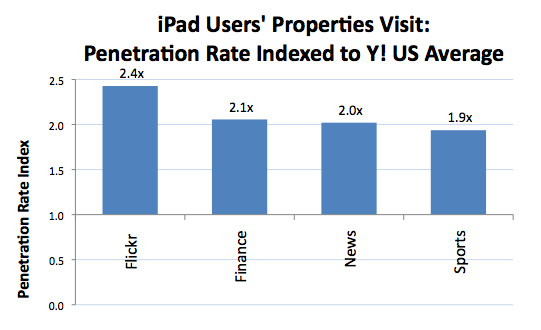 Men Much More Likely Than Women To Buy iPad
Yahoo! found that of its users, men were much more likely to purchase an iPad than women were. While 51% of all U.S. Yahoo! users were male, 66% of users with an iPad were male. According to the study, men are usually the first to adopt new technologies, so the gender distribution of iPad users was not too surprising.
The iPad is most popular among people aged 30 through 54, and is especially popular among the group aged 35 to 44. From the data, it appears iPad users are old enough to have accumulated enough money to have disposable income but young enough to use new technologies like the iPad in their daily lives. The people least likely to buy an iPad are people under 29 years old. While many young people would probably love to have the iPad, its price tag might be a stumbling block for young professionals or students.
Ask a Question