BancorpSouth Rolls Out Mobile Banking App For iPhone
BancorpSouth customers can now access their bank accounts from their mobile phone using the new BancorpSouth mobile banking application for the iPhone and iPod Touch.
BXS Bank App
The application, which is available for free download in the iTunes app store, allows BancorpSouth customers to receive and pay bills, view account balances, make transfers and receive statements, all from their mobile device. Once you have downloaded the app, be sure to visit BancorpSouth to register your mobile device for additional security.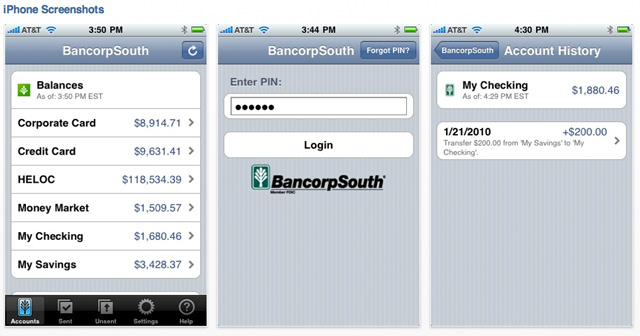 Consumer Wallet
The free mobile banking service offers a "Consumer Wallet" feature, which consolidates users' BancorpSouth products into one easy-to-use application. Users can securely access their banking information anywhere and at any time with their unique mobile PIN.
To download the app, visit the iTunes App store or follow the instructions on the BancorpSouth website.
For more information on the potential security issues of mobile banking, click here.
To hear what people are saying about mobile banking, check out our video.
Ask a Question