Customer Service More Important Than Fees, Says J.D. Power Survey
Banks have had a hard time retaining customers over the past few years, and the recession hasn't helped. While many factors go into a person's decision to change banks, the service and respect they feel they receive from their bank has become increasingly important as large financial firms are charged with fraud and consumers become wary and more careful about where they put their money.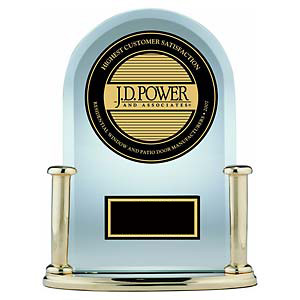 Retail Banking Satisfaction Survey
With 51% of people preferring to do their banking online today — a figure that is up 7% from 2008 — it is easier than ever for people to switch banks, and they seem very willing to do so if their needs aren't being met. Only 34% of consumers say they will "definitely not switch" banks in the next 12 months, down from 46% in 2007.
The survey, which encompassed nearly 48,000 banking customers across the country, found that overall satisfaction with retail banking declined in 2010 for the fourth year in a row. The biggest contributor to this was customer satisfaction, which was cited by 37% of those surveyed as the reason they decided to switch banks this year.
The Price Of Courtesy
Fees were found to be slightly less important to consumers than customer service. Only 29% of those surveyed said fees played into their decision to switch banks.
These statistics are very important for banks, because while fees may be difficult to change, simple things like thanking customers for their business and greeting them when they enter a branch are easy to fix and can increase overall customer satisfaction by up to 50 points on the J.D. Power and Associates index.
While these simple gestures may seem insignificant, fewer than half of consumers surveyed reported they are treated this way by their banks. While things like fees and rates are relatively easy to find and compare, more "soft" incentives to choose a bank are harder to quantify and find. One great way is simply to ask other customers or read reviews of banks written by current or past customers.
Ask a Question