BankSimple, set to launch by year-end, adds Alex Payne, one of Twitter's first employees
BankSimple hasn't officially launched, but it has made a big splash in the online world by adding Alex Payne, one of the minds behind Twitter.
BankSimple, which we originally wrote about back in February, is an online bank set to launch later this year. According to co-founder Josh Reich, BankSimple is "looking to simplify the online banking experience with a fee-free structure."
We spoke with Reich to get an idea of where BankSimple is headed and how Payne will help it get there.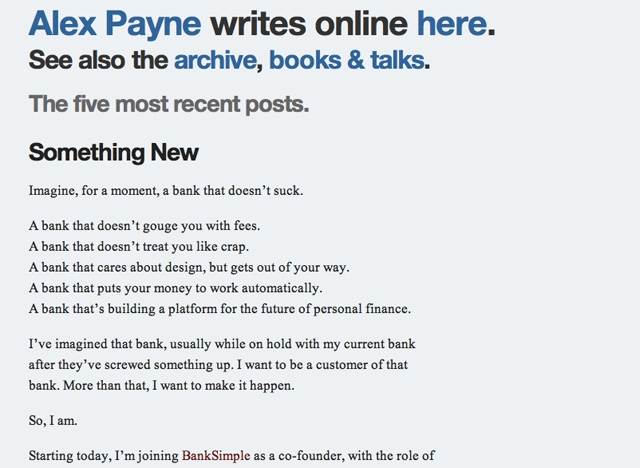 Payne goes from networking to banking
Payne, who is listed as one of the BankSimple's three co-founders, looks to be a big piece of the puzzle for BankSimple. He helped develop the platform for Twitter, one of the world's most popular sites, and was one of Twitter's first employees.
Payne's move from one of the most popular social networking sites in the world to a yet-to-launch start-up might look surprising from the outside, but both BankSimple and Payne had good reason to unite.
"Alex has a very strong design aesthetic that really speaks to us and the site," Reich said. "To win in banking, we need extensive technical skill. He's the right fit for us."
Payne, who started at BankSimple at the beginning of the week, wrote on his blog that the need for a better bank provided motivation for his move.
"I'm going to make sure we build something that's simple, beautiful, and works really really well," Payne wrote.
Payne continued: "I feel ready to take on the challenge that BankSimple presents, and I'm joining on with two brilliant people who've put a ton of thought into building a better bank."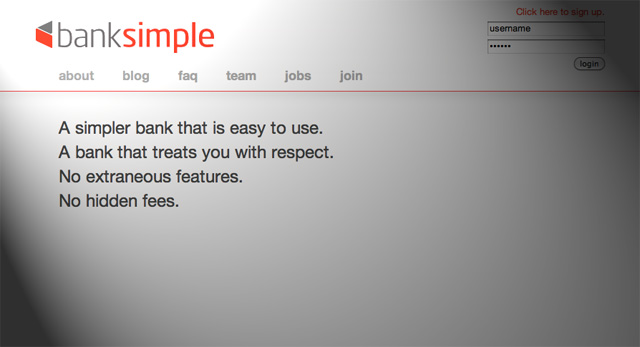 What to expect from BankSimple
In Reich's words, BankSimple's mission statement is "Don't suck."
As simple as that sounds, Reich said there was a void in the online banking market because no company had perfected the user experience.
"There are always things about banking sites that annoy consumers," Reich said. "And it ends up ruining the experience.
"We've tried lots of principles, but we kept coming back to 'Don't suck.'"
BankSimple might be simple, but you won't lose any of the functionality of a standard bank.
The FDIC will insure deposits, fees from outside-network ATM fees will be reimbursed, and deposits will be accepted via photo through the BankSimple smart phone app.
BankSimple will offer online bill payment and money transfers, and best of all, comes with no hidden fees. Reich said the site will come with no additional fees whatsoever. Without paying overhead for physical branches, BankSimple will not need the extra money from hidden fees.
BankSimple is set for an American launch later this year, and the site's FAQ section says it could expand internationally at a later date.
Ask a Question