Increase your chances of finding job openings by relocating
So you've earned your degree and got a couple of weeks in the real world under your belt. The next step is finding a job.
Problem is, jobs aren't easy to come by in an economy coming out of a recession and still plagued by 9.9% unemployment. The solution to your job problem could be packing up and moving to a different location, according to data published by job search engine Juju.com.
The method
Researchers calculated the Job Search Difficulty Index for 50 major U.S. cities, as well as each state (and Washington, D.C.) by dividing the number of unemployed workers by the number of available jobs in the Juju system.
The number that emerges shows how many unemployed people there are per available job, and stands as a good indicator of your likelihood of finding a job. The lower the number, the better the city or state would be for your job hunt.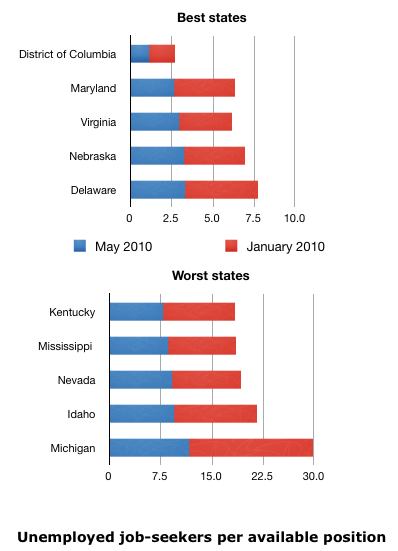 Washington, D.C.: a job seeker's paradise
Washington, D.C. is the place to be if you're looking for work. The District of Columbia is home to just 1.6 unemployed people for every open job. Large east coast cities such as Baltimore, Md., New York, N.Y., and Boston, Mass. also appear in the top 10.
Easiest cities for job-hunting:
1. Washington, D.C. — 1.6
2. San Jose, Calif. — 1.7
3. New York, N.Y — 2.1
4. Baltimore, Md. — 2.1
5. Oklahoma City, Okla. — 2.8
The top states for job hunting did not share much in common with the top metro areas. Aside from the District of Columbia in the top spot, the rest of the top 10 included surprising locations such as North Dakota, Nebraska and Oklahoma. North Dakota boasts three of the top 10 U.S. cities with the lowest unemployment rates, according to the Bureau of Labor Statistics. Despite the friendly market in New York City, New York state did not fare quiet as well, coming in at 17th overall.
Easiest states for job-hunting:
1. District of Columbia — 1.1
2. Maryland — 2.6
3. Virginia — 2.9
4. Nebraska — 3.2
5. Delaware — 3.3
Detroit and St. Louis suffering from a lack of jobs
Two Midwestern cities stood way behind the pack in terms of job availability. If you're in need of a job, don't pack up and head for Detroit, Mich., or St. Louis, Mo. Both cities — formerly known for their industrial might — took huge hits during and even before the U.S. financial crisis and have not recovered much since. If you went job-hunting in St. Louis, there would be an average of 12 other people going after the same position.
Hardest cities for job-hunting:
50. St. Louis, Mo. — 13.1
49. Detroit, Mich. — 11.9
48. Miami, Fla. — 11.8
47. Las Vegas, Nev. — 10.6
46. Riverside, Calif. — 8.5
Michigan is by far the least appealing state in which to seek work. Detroit and Flint, two of the state's largest cities, both have unemployment rates above 15.5%. States from all over the map rounded out the bottom 10, including California, Mississippi and Idaho.
Hardest states for job-hunting:
51. Michigan — 11.6
50. Idaho — 9.4
49. Nevada — 9.0
48. Mississippi — 8.5
47. Kentucky — 7.8
Job market improving across the board
The availability of jobs has increased in both the worst job-seeking climates and the best areas since the beginning of the year.
In Juju.com's first release of 2010, there were 20 unemployed people for every job in Detroit. In the past five months, that number has decreased by about 40 percent. Even in Washington, D.C., which had the fewest unemployed people per job in both January and May, jobs became about 15% easier to find. New York City saw a huge positive jump, going from 3.3 job hunters per position in January to just 2.1 in May.
You can find Juju.com's data for states here and cities here.
Ask a Question