Credit Card Agreements Available in New Federal Reserve Database
Ever wanted to check out what a credit card agreement from a particular issuer looks like before you sign on the dotted line?
Now, thanks to the Federal Reserve Board, you can take a look at agreements from any of more than 300 companies before you decide on an issuer. The government institution rolled out Monday its new, searchable database of consumer credit card agreements. The Fed made the documents available in order to allow consumers to better educate themselves before making financial decisions.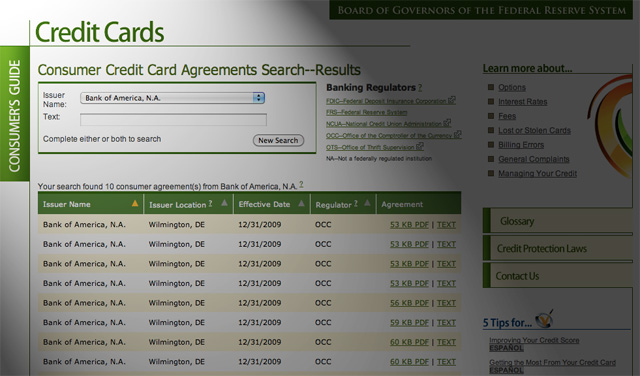 Database Contains Documents From Large Issuers
Not all consumer credit card agreements are available in the database. The board did not make issuers with fewer than 10,000 open credit card accounts submit their documents. The overwhelming majority of accounts belong to issuers with more than 10,000 open accounts. The scope of institutions included in the database is broad, ranging from small credit unions to huge banks such as Wells Fargo.
The database allows you to search by bank or enter text to search. When you find a particular lender via search, the system displays the name, location, date and regulator of the agreement. You can choose to view the agreement as a PDF or in plain text.
Government Continues Reform, Regulation of Credit Industry
The database marks another step along the road of reform and regulation down which the government is leading the financial industry.
Major credit card industry reform started with the passage of the CARD Act late last year (took effect in February 2010) and has continued with the implementation of the consumer credit card database. The CARD Act mandated that issuers post account agreements online and make agreements available on request, but the Fed's newest consumer-friendly tool goes past even those requirements.
To take the Fed's searchable database for a spin, click here.
Ask a Question