FDIC report: more banks on 'problem list'
Some of the nation's banks are struggling while others prosper, according to the Quarterly Banking Profile issued by the Federal Deposit Insurance Corporation (FDIC).
The number of banks on the FDIC's "problem list" continued to grow in the first quarter of 2010, but the banking industry as a whole posted a big increase in earnings. The report found that small banks fared more poorly than their larger counterparts in the first quarter.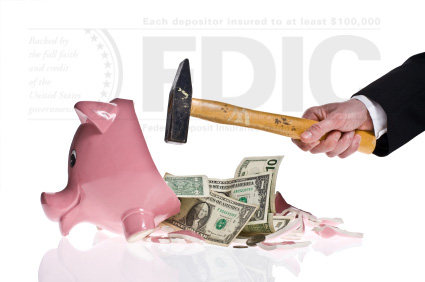 Small banks having a hard time
The FDIC's problem list, which includes banks with financial, operational or managerial weaknesses, grew to 775 from 702 at the beginning of the year. The increase brought the troubled banks tally to nearly 10% of the total institutions insured by the FDIC. The problem list is currently at its highest level since it topped 1,000 in 1992.
Names of the troubled banks were not released, but the data in the report indicated small banks were more likely to be on the list than were big banks. The problem institutions contained a total of $431 billion in assets, $28 billion more than at year-end. Small banks suffered losses on construction loans and commercial mortgages because of the poor economy, FDIC chair Sheila Bair said while announcing the report's findings.
Bair offered reassurance during the announcement, saying that the vast majority of troubled banks do not fail. As of the afternoon of May 21, 72 banks had gone under in 2010. Last year, 140 banks failed.
Many big banks flourishing
The expansion of the problem list was somewhat offset by the strong first quarter performance of large financial institutions. The success of big banks pulled the industry's overall earnings to $18 billion, more than three times the $5.6 billion generated in the first quarter of 2009 and the highest earnings recorded since 2006.
Four of America's largest banks — JPMorgan, Bank of America®, Citigroup and Goldman Sachs Bank USA — enjoyed "perfect quarters," in which they did not lose money on a single day. The profit of those banks, which each carry more than $1 trillion in assets, helped add to the industry's earnings surge.
List of banks insured by FDIC shrinks
The number of banks reporting quarterly results to the FDIC fell by 80 in the first three months of 2010. The total of 7,932 represented the first time the number of banks reporting had been less than 8,000 in 76 years.
Forty-one banks insured by the FDIC failed and 37 FDIC-backed institutions were merged into other banks. Three new charters were added, but all three were formed for the purpose of acquiring other failed banks.
Ask a Question