Start Saving Socially with SmartyPig
SmartyPig is a website that turns saving money into a social activity. If that sounds complicated, it's not.
The program is essentially a savings account that you can contribute to until you reach a certain predetermined dollar amount. You can invite friends and family to contribute to your savings — that's where the "social" part of social savings comes in. When you've reached your goal, you can either turn a profit by placing the funds on a reduced-rate gift card or cash out and spend your money at your leisure.
"SmartyPig's mission is to empower consumers to avoid the credit mindset of, 'buy now, pay later,'" said Bob Weinschenk, SmartyPig CEO.
Saving Socially A Money-Making Proposition
Saving money is difficult. Even when you have a goal in mind, stashing away money periodically in a savings account can seem like an arduous process. SmartyPig goes a long way toward making the process painless, if not exciting.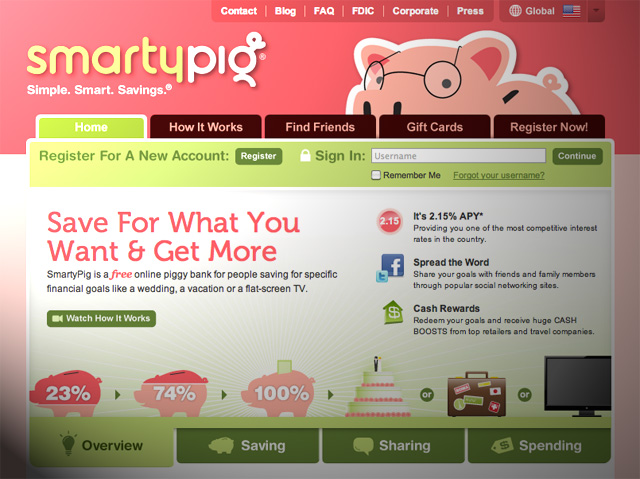 After signing up and opening an account (free of charge with a $25 minimum initial deposit), you set a tangible goal. For example, you can tell SmartyPig you want to save $30,000 for a new car, $300 for a new bicycle, or $1,000 for some yet-to-be-determined item.
After setting your goal, you can start saving and earning interest like you would with a standard savings account. SmartyPig's most recent APY is a competitive 2.15%. To start your savings off on the right foot, you can set a schedule of regular transfers from your existing checking or savings account. But your own contributions and the interest you earn are not the only ways in which SmartyPig helps you save.
You can solicit donations from friends and family by having the program send out notifications stating your goal and how much help you need to get there. Potential contributors can also credit your account by searching for your E-mail address at the SmartyPig site or clicking one of your embeddable Facebook or MySpace widgets.
SmartyPig-Approved Retailers Offer Savings
When you have reached your goal or saved all you feel like saving, you can redeem your money in one of a few ways.
The plan with the most incentive is to place your funds on a retail or gift card from one of 23 merchants, which SmartyPig calls "Best-In-Class Retailers." When you place all or a portion of your money on a retail card, the program adds a certain percentage of your contribution to the balance of the card. For example, Amazon.com adds 4% to your total, iTunes contributes 2%, while merchants such as Macy's, Travelocity and Sandals all pitch in 10% or more.
"SmartyPig believes that it's important now, more than ever, that consumers adopt responsible financial habits," Weinschenk said. "This is why we not only reward customers who want to save and spend smartly with industry leading interest rates, but also provide them with cash boost incentives from best-in-class retailers."
If you aren't keen on any products offered by SmartyPig's select retailers, you can place your funds on a fee-free SmartyPig MasterCard debit card, at which point you can use the card to make whatever purchases you like. SmartyPig will also transfer your funds back to your original checking or savings account, free of charge.
Several Potential Negatives
SmartyPig doesn't come with any huge strings attached, but there are a few reasons it might not be right for everyone.
When your friends and family donate to your savings fund via credit card, they are also donating a flat fee of 2.9% to SmartyPig, presumably to cover the credit card processing costs.
If you opt to place your funds on the MasterCard debit card, your free ATM transactions could be severely limited. SmartyPig is affiliated with West Bank, an Iowa-based institution with branches in four cities — all in Iowa.
Overall, SmartyPig A Bright Idea
SmartyPig has a couple of minor drawbacks, but the overall idea and execution of the program is strong.
It adds a bit of excitement to the drudgery of saving by setting tangible goals you can see on the computer serene. It encourages others to give you money — always a good thing — and helps you keep track of your own progress. It also provides a good learning tool for young people who need financial education and awareness of how to save.
Ask a Question