TD Bank Issues Flat Debit Card
Replacing your lost or stolen debit card is getting a lot quicker and easier. If you're a TD Bank customer, that is.
TD Bank announced the release of its new, flat debit card, which members can expect to receive in the mail soon. The flat card works in the same way as TD's traditional, embossed debit card, except the card number is flat.
What's Wrong With Embossed Cards?
There's very little reason to use an embossed debit card these days, since the vast majority of merchants do not use old-style imprint machines that used the raised numbers to create carbon copies of receipts.
With nearly 100% of debit card transactions occurring via swipe, payWave readers or Online information entry, the era of embossed cards seems to be nearing its end.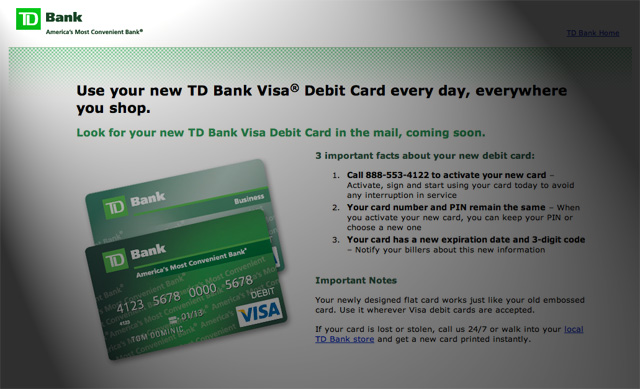 Why Swap Cards?
Changing cards can be a bit inconvenient: You'll need to call TD Bank to activate the new card and learn a new expiration date and 3-digit code before you can start making purchases. But TD's flat card could end up saving you some trouble.
TD can make a flat card at any of its 1,000-plus branches, meaning you can have a new card printed instantly at any TD Bank location instead of waiting to have your replacement mailed to you.
The Details
If you're a TD Bank customer, expect to receive a flat card in the coming days. You can keep whatever rewards points accumulated on your last card.
If you aren't a TD Bank member or are seeking more information, click here.
Ask a Question