Capital One Student Banking Program Teaches Responsibility, Financial Literacy
For most high school students, the study of personal finance only extends as far as their weekly allowance. For students at three New York City-area high schools, however, money management isn't a mystery: It's something to learn and something to teach to others.
Students at high schools in Newark, N.J., and two New York City boroughs, are learning the ins and outs of personal finance as part of a program run by Capital One Bank. Through the program, which expanded in April to include Thurgood Marshall Academy in Harlem, high school seniors — under the watch of a Capital One branch manager — operate a bank branch within their schools.
The student-run banks are designed to provide life-skills training, mentoring opportunities and experience in a professional workplace. Many students have found participating in the program has helped them academically or motivated them to attend college.
"Since I'm going to college next year, I'm hoping to be able to finance it, and this is just a great opportunity to learn how to save my money," said Matthew Reyes, a student banker at Thurgood Marshall. "And that's going to be well needed in college."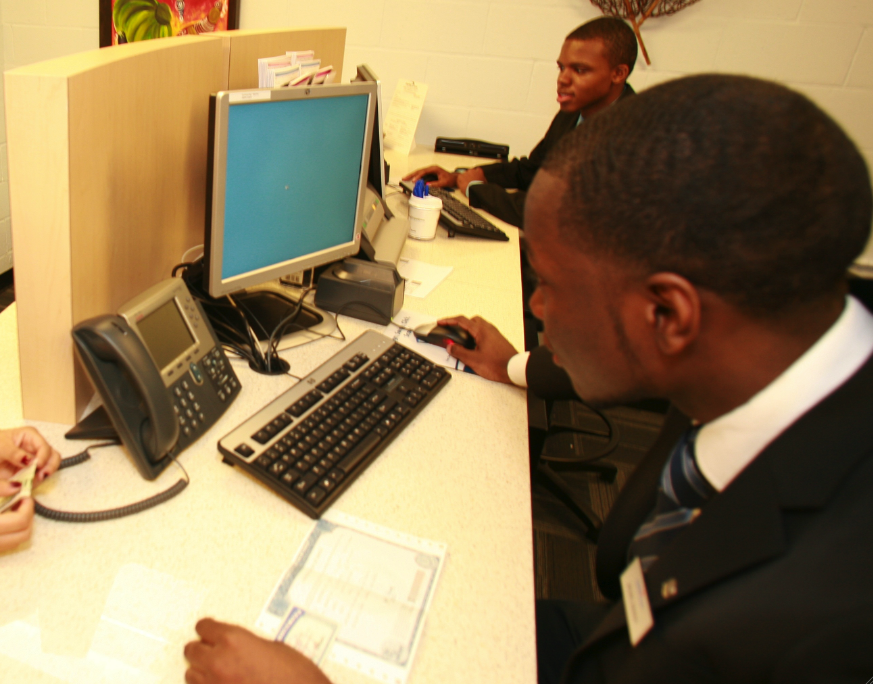 Branches Serve A Traditionally Underbanked Population
At Thurgood Marshall Academy, 70.9% of students are African-American and 25.6% are Hispanic or Latino, according to the New York City Department of Education. Members of these demographic subsections are the most likely to be counted as unbanked or underbanked, meaning a household has no or limited access to banking services. According to the FDIC, 21.7% of African-American households and 19.3% of Hispanic or Latino households were unbanked as of late 2009.
That's where Capital One's program comes in. Though only about 10 students operate each branch, members of the student population at the schools have benefited from the program.
The in-school banks are functional Capital One branches, limited to basic services. Members of the student body or school staff can open and maintain savings accounts at the locations, saving them the trouble of having to bank at an off-site branch.
"The student bankers have the responsibility of running the branch and acting as financial education ambassadors," said Stacey Cooper, Vice President of community development banking at Capital One.
In addition to helping their peers set up and manage accounts, student bankers visit classes and help teach their fellow students about money management using a Jeopardy-style game designed by Capital One.
Student Bankers Gain Experience, Know-How
The students who participate in the program see growth in multiple areas of their lives, according to Cooper. The statistic that says the most about the program's impact is 90%: the percentage of student bankers who go on to attend college.
"The student bankers take away skill development," Cooper said. "They talk about the discipline it takes to have the responsibilities of a job — from being on time to performing the tasks required."
Becoming a student banker is not an easy task. Only 10 of the nearly 600 students enrolled at Thurgood Marshall are part of the program.
All juniors are able to apply for the program with a cover letter and resume. Those who move on to the second round of interviews must present a written statement. The selected students move on to a six-to-eight week program in the summer that includes training at a Capital One branch and a week at a local university to help prepare to send college applications later in the year.
"I was challenged to push myself further, allowing me to grow not only as a student or employee, but as an adult," Reyes said.
Program Has Launched Three Banks in Nearly Five Years
Capital One first came up with the idea of a student banking program in late 2005. The first student-run branch was opened in fall 2007 at Fordham Leadership Academy in the Bronx. The second opened in Newark one year later. The Thurgood Marshall branch was the third and latest addition to Capital One's collection of student-run banks.
No definite plans for growth currently exist, but the bank would consider expanding the program, according to Cooper.
Ask a Question