Nearly 8% of Americans Are Unbanked, 18% Are Underbanked
When the Census Population Survey went out in 2009, the FDIC supplemented the standard questions with finance-related queries to help build the database on households' banking habits. The surveyors were particularly interested in the areas where households are being under-served by the banking industry.
Turns out the number of unbanked and underbanked households in the U.S. is fairly large: Almost one in 10 households does not use a bank at all. Before this research, a significant gap existed in the data regarding unbanked and underbanked households, according to the FDIC.
60 Million Americans Unbanked or Underbanked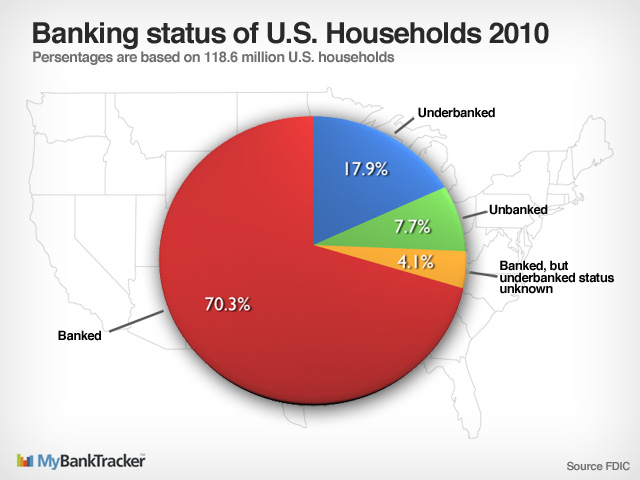 • Unbanked:
The results of the survey show that nearly 9 million households, or approximately 7.7 % of those in the U.S., are unbanked. The unbanked population includes about 17 million adults.
A household is considered unbanked if it does not have a checking or savings account. These households tend be mostly minority households, making the numbers disproportionate to the overall US population. The most frequently unbanked demographics are Blacks (21.7%), Hispanics (19.3%), and Native Americans (15.6%).
Demographic groups that are more likely to be banked, as compared to the overall population, are Asians (3.3%) and Whites (3.3%).
• Underbanked:
An underbanked household is one where the members have either a checking or savings account but rely on alternative financial services. The underbanked population includes about 43 million adults and 21 million households.
These households have used non-bank money orders or non-bank check-cashing services, payday loan institutions, rent-to-own agreements, or pawn shops on a regular basis.
Blacks, Hispanics and Native Americans were also the most likely Americans to be underbanked.
What Banks, FDIC Are Doing
With nearly 30 million Americans unbanked or underbanked, the survey provides a starting point for institutions who wish to help those under-served families across the country.
While the FDIC has no immediate plans to engage those numbers with a unified plan of action, the non-profit sector has grown to include financial services experts, especially in the last two years.
For a complete summary of the report, click here.
Ask a Question