Charter One, Citizens Bank Release New Savings Options
Citizens Bank and affiliate Charter One recently released two products that could help you save money.
One of the products, GoalTrack Savings, allows you to create a savings plan and set savings goals. The other, Citizens Bank CollegeSaver, is an easy way for students to save money during college.
GoalTrack Savings Makes Saving More Rewarding
Saving money isn't always fun, and it's sometimes hard to remember to stash away a piece of your paycheck each month. GoalTrack savings makes saving a bit more attractive by presenting tangible goals and corresponding graphics showing your progress.
GoalTrack savings is a free program that you can add to any eligible Charter One or Citizens Bank savings account. You can specify a particular goal (car, television, etc.) and a timeframe and watch your savings grow to meet your goal.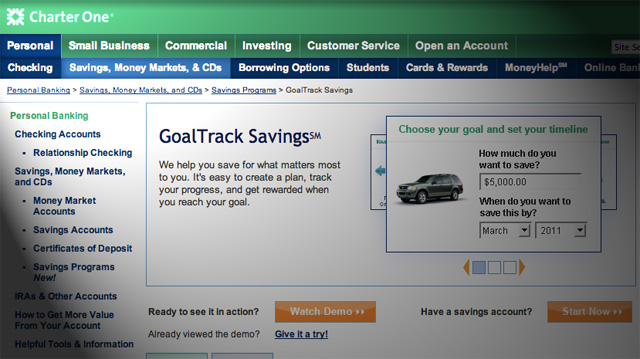 When you hit your goal, Citizens Bank will send a reward your way. To earn a reward, you must save at least $25 per month for at least eight months. Your reward corresponds to how much you saved during your goal period.
You add the GoalTrack service through either of the banks' online banking services.
For additional information about GoalTrack, click here.
CollegeSaver Pays Off For Parents and Students
The Citizens Bank CollegeSaver account is for parents and future students who are preparing for college early.
If you open a CollegeSaver account before your child's sixth birthday and save a minimum of $25 per month each year ($3,600 over 12 years), you will receive a $1,000 bonus (plus interest) when your child turns 18.
If you think you might have trouble remembering to make regular deposits, you can sign up for Steady Save, an automatic transfer service from Citizens Bank.
You are limited to one CollegeSaver account per child. CollegeSaver APYs range between 0.30% and 0.50%.
For more information on CollegeSaver accounts, click here.
Ask a Question