Chase Adds Features to Continental Airlines Cards
Chase announced this week changes to its Continental Airlines World MasterCard® and Continental Airlines Presidential Plus Card.
The alterations included added travel and rewards benefits and different opportunities to earn miles with Continental Airlines.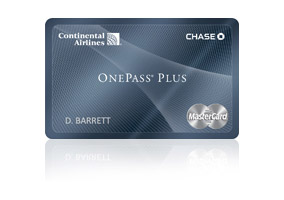 World MasterCard® becomes 'OnePass Plus' Card
Chase's World MasterCard® underwent a name and image change along with the addition of some new features. The card is now known as the Continental Airlines OnePass Plus Card, and comes with some new benefits if you're a cardholder:
You will receive 10,000 Continental bonus miles each year in which they spend at least $25,000 on the card.
You will be eligible for food and beverage credits, upgrades and special amenities at any of 650 select hotels. The list of participating hotels is here.
You can now roll your miles over for use on rental car and hotel charges.
You'll also get 90 days of purchase protection on various items and improved warranties on car rentals.
Presidential Plus Card Keeps Name, Adds Features
If you are a Presidential Plus Card member, you will be eligible for the food and beverage credits, hotel upgrades, miles rollovers and purchase protection mentioned above.
You'll also receive 1,000 Flexible Elite Qualification miles for every $5,000 spent using the card.
The Details
The cards come with substantial fees to help pay for the big benefits they offer. The cards come with a $395 annual fee for new members, while existing members can keep their $375 per year fee.
If you already have either of the cards, you won't have to do anything to receive the upgrades — material with more information is on the way, according to Chase.
If you are a Chase member with a different credit card, you can call the number on the back of your card to request an account change.
If you aren't a cardholder, go to mycontinentalcards.com for application information.
For information on the Continental Airlines OnePass Plus Card, click here.
To read the press release from Chase, click here.
Ask a Question