MyBankTracker.com Introduces the Bank Health Meter
Some sectors of the economy are starting to make slow recoveries from the recession, but many banks are still struggling, according to first quarter numbers from the Federal Deposit Insurance Corporation.
With the number of "problem banks" currently up to 775 from 702 at the end of 2009, now is the time to make sure your current or prospective bank is healthy.
Easily Find the Health of Your Bank
Our new Health Meter is the first place to look to get a quick take on a bank's health and stability.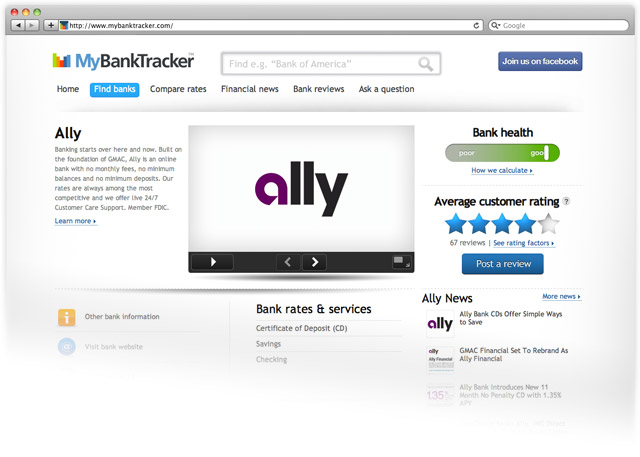 The health of a bank is measured using the Texas Ratio*, which is used to gauge a bank's credit standing. We crunch the numbers on each bank in our database and display the health of each on our simple-but-clear graphic, located on the right side of each bank's profile page.
We hope the Bank Health Meter will benefit consumers who are trying to make smarter banking decisions in a time of financial uncertainty.
*The Bank Health Meter is based on the Texas Ratio percentage, which is used to determine the extent of a bank's credit trouble. The Texas Ratio is calculated by dividing the value of the lender's non-performing assets minus its U.S. guaranteed loans ((Non performing loans – U.S. guaranteed loans) + Real Estate Owned) by the sum of its tangible common equity capital and loan loss reserves. Source: FDIC.
Ask a Question