Helpful Mobile Finance Apps for Credit Card Users
Mobile finance isn't just for transferring money or checking account balances anymore. If you're a frequent credit card user, it might be worth taking a look at some of the apps available for the iPhone, Android and iPad. From accepting credit card payments with the help of a physical card reader to tracking your reward points and transactions, applications can help you keep your accounts in order.
Here are a few of the most helpful and interesting: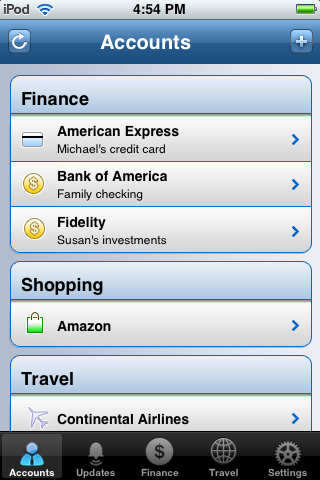 'Personal Assistant' Tracks it All
The Personal Assistant app from PageOnce, available for iPhone, Android and Blackberry, does a lot more than merely keep track of your credit card expenses. But its credit card tracker makes monitoring your card accounts easy.
You can set up your credit card accounts under the app's "Finance" tab. You can input standard savings or checking accounts, as well as your credit card account. You can sign up for alerts to help protect against incorrect transactions or possible fraud while keeping you aware of your bill due dates and rewards expiration dates.
The app tracks your accounts carefully so you don't have to hold on to your receipts as tightly. You can view your financial account transaction history, organized by date, purchase amount or merchant.
The Personal Assistant application is free, but you can upgrade to a premium version for $6.99.
For more information on Personal Assistant, click here.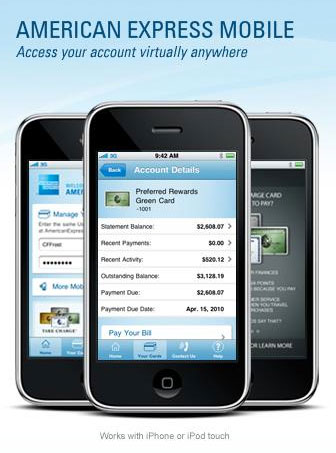 'American Express Mobile' Keeps Count of Rewards
The American Express Mobile app for iPhone is similar to those offered by many banks, but it also includes some features for frequent American Express card users.
With the American Express app, you can check your balance, pay your bill and see your recent transactions (all on multiple accounts). In addition to seeing all of your purchases and your current balance, you can check out your rewards points total. If you are enrolled in the Membership Rewards points program, the app gives you an easy way to keep track of what rewards you are racking up.
The American Express Mobile application is free.
For more information, click here.
Square, which is downloadable on both iPhone and Android, is a handy application that allows merchants to process credit card payments via mobile device.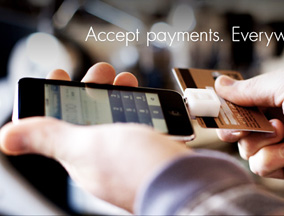 'Square' Expands the Pay-by-Card World
In addition to expanding the availability of credit or debit card payments from store to anywhere with 3G or Wi-Fi access, Square expands past the traditional boundaries of the mobile device. The app comes with a physical card-swiping device to accept payments conveniently.
Square is free for iPhone and Android.
For more information on Square, click here.
Ask a Question