Bye-Bye Credit Card, Hello BOKU: Service Makes Mobile Payments Easy
We use it to call home and text our buddies. Now, with the help of BOKU, we can use our cell phones to make quick Online payments. BOKU is a new, text message-based service that is trying to replace credit cards as the payment tool of choice for digital purchases.
In the ever-changing world of technology, convenience reigns king. And that's where BOKU comes in, making possible what it calls easy and safe instant payments. Mark Britto, CEO and Co-Founder of BOKU, says the service has gone after the bold task of "creating the standard for online payments."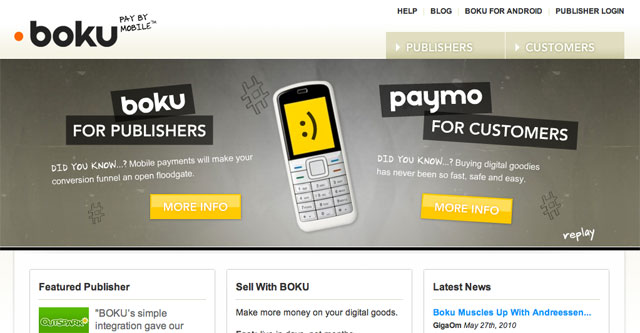 BOKU Gives Businesses Access to Underbanked Consumers
With coverage in over 50 countries, BOKU offers accessibility to the unbanked and underbanked. This allows businesses to broaden their consumer audience.
BOKU provides its services to Online companies ranging from gaming websites to app-developers who sell products on Facebook. All you have to do is click "Pay By Mobile," enter your phone number, and Reply "Y" via text to confirm.
BOKU Offers Security for Customers
BOKU's payment system is called Pay by Mobile, or 'Paymo' for short. The service says safety is at the top of its priority list. Since payments are made directly from cell phones to the company, it eliminates the possibility of credit card fraud. Paymo also cuts out time wasted filling out long Online checkout forms.
Next time you are sitting on Facebook and want to win big on Texas Hold 'Em Poker, put your credit card away and whip out the 'ol cell phone.
For more information on BOKU, click here.
Ask a Question