MyBankTracker.com Enhances Bank Reviews, Offers Chance to Win iPhone 4 or iPad
In MyBankTracker.com's effort to provide users with the insight necessary to make smarter banking decisions, we enhanced our bank review platform earlier this month, allowing you to post more precise reviews and help members of the MyBankTracker.com community find a better bank.
You can rate various services and qualities of each bank on a one- to five-star scale, giving you more control over the review you contribute to the community. You can rate your bank's performance in categories such as customer service, rates and fees.
The new bank review format adds a uniquely social aspect to the site and helps provide important feedback to banks. Your reviews could end up leading to new bank programs and more consumer-friendly policies.
If you contribute a review to the MyBankTracker.com community, you could win a brand new iPhone 4 or iPad.

Entering is easy! Just visit the sweepstakes page and click "Post A Review." It takes less than five minutes!
That's it! If you've already reviewed a bank, don't worry. You can go back and update a past review or submit a review for another bank. To be eligible for the prize, you must submit your review by noon on July 30.
To read the FAQ and full terms and conditions, click here.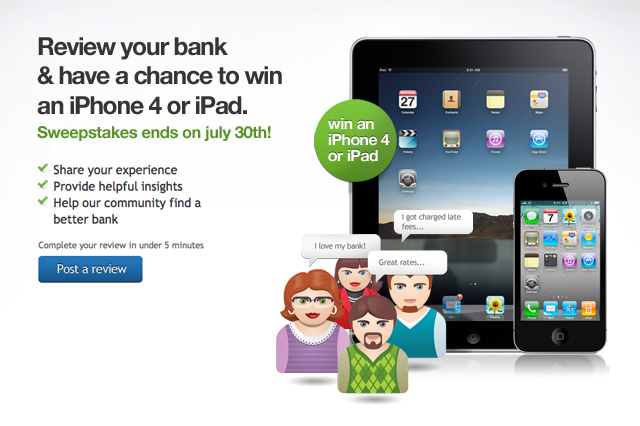 Ask a Question