Chase Community Giving Launches on Facebook
Chase Bank is using its influence and the popularity of social networking to make a positive impact this summer.
With its Chase Community Giving program, Chase is giving away more than $5 million to charities chosen via a Facebook voting system.
How to Give
The best part of Chase's promotion is that you don't necessarily have to be a member of the bank to contribute to a good cause.
The first step is visiting the program's page and searching for a location or a particular charity. If you search for a zip code, you could find multiple charities in your area. Once you choose a charity from the list, you can enter a vote for that particular organization. You do not need to purchase or sign up for anything to vote, you just need to "Like" the Chase Community Giving application on Facebook.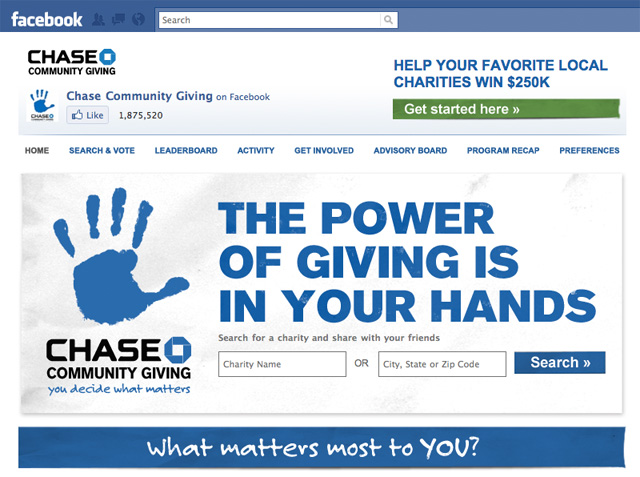 How the Money is Awarded
Chase doesn't just toss the $5 million-plus at a charity or two. Instead, the bank is spreading the wealth among the top 200 vote getters.
The top charity will receive $250,000, charities numbers two through five will get $100,000, and the next 195 will earn $20,000.
The program runs from June 15 to July 12, giving you nearly one month to make your selection.
For more information on Chase Community Giving, click here.
Ask a Question