American Express mobileXtend Tries to Take the Hassle out of Business Travel
American Express Business Travel launched a new app last month meant to help travelers organize their itineraries. The app, titled mobileXtend, will allow the transmission of travel reservation information to your mobile device no matter what booking method you use.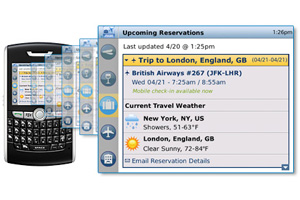 mobileXtend Makes Travel More Convenient
The app is compatible with iPhone, BlackBerry® and other smart phones, and any mobile phone can use mobileXtend through SMS text messaging. MobileXtend allows you to keep a better handle on out-of-your-hands travel circumstances. If a flight is cancelled or delayed, you can make changes accordingly and immediately.
"Travelers expect to have access to their travel details while on-trip. At the same time, corporations are looking for a comprehensive solution. Our mobileXtend platform is re-inventing the travel experience by meeting these needs," Durocher said in a statement.
For a full list of the mobileXtend's features click here.
What mobileXtend Means for Businesses
The mobileXtend app provides a more efficient approach to communication between employers and on-the-go employees. The app allows everyone in the corporation to collaborate on travel plans and provides more opportunities to assist those who are en route.
To visit the mobileXtend page on Americanexpress.com click here.
New 'DTR' Technology Makes mobileXtend Possible
American Express Business Travel invested in creating the proprietary Digital Traveler Record technology (DTR). DTR provides travelers the ability to make real-time changes to bookings. Whether the reservation is made offline or online travelers will receive reservation details, itinerary updates, flight status alerts and weather forecasts, among other things.
"We have invested in creating this proprietary technology to standardize travel information into one electronic language," said Lisa Durocher, senior vice president of American Express Business Travel.
Ask a Question