Banks More Than Halfway to TARP Bailout Repayment
The much-maligned banks that took bailouts from the U.S. government and taxpayers are doing a good job repaying their debts, according to the U.S. Department of the Treasury.
Banks have now repaid more than half of the funds outstanding as part of the Troubled Asset Relief Program (TARP). The government's May TARP Report found that repayments outweighed debt for the first time since the bailout was issued in October 2008.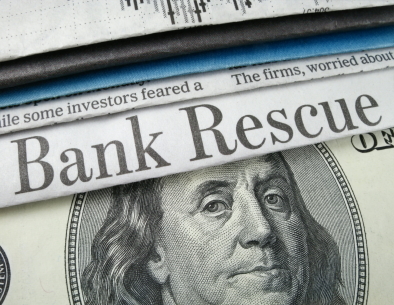 Small Banks Struggle, Big Banks Thrive
The struggle of small banks to stay relevant in the post-crisis financial world is illustrated clearly by the difficulty they are having repaying TARP funds. Meanwhile, big banks are paying their due as they bask in substantial first-quarter profits and a wholesale reversal of fortune.
More than 100 banks included in TARP — most of them small institutions — have missed returning one of their dividends to the government. That number has grown 25% in the past three months. The worst offender is the small southern California firm Saigon National Bank, which has missed six dividend payments. A total of 24 banks have missed four or more payments. Overall, banks have paid the government about $23 billion through accumulated interest and dividends.
Big banks have been the target of politicians and taxpayers since the downturn because of the risky lending and operational behaviors some of them used in the years leading up to the recession. Large institutions, however, have been the most responsible in the repayment of TARP funds. The biggest recent boost from a large institution came in May when the government sold off $6.18 billion (1.5 billion shares) of Citigroup stock it had acquired.
"TARP repayments have continued to exceed expectations, substantially reducing the projected cost of this program to taxpayers," said Herb Allison, assistant secretary for financial stability. "This milestone is further evidence that TARP is achieving its intended objectives: stabilizing our financial system and laying the groundwork for economic recovery."
TARP Getting Cheaper by the Month
The government's TARP bailout program devoted more than $700 billion to struggling U.S. industries, a large chunk of that going to the banking industry. It was initially meant to purchase unhealthy mortgage securities from banks, but the government expanded the program and started putting money into banks to keep them from failing.
The silver lining in all of this is that the projected taxpayer burden shrinks as banks make larger-than-expected contributions to the TARP repayment. Last August, President Barack Obama estimated the plan would include losses of approximately $341 billion. That figure dropped to $116 billion at the beginning of the year and $105 billion in the Treasury's latest release.
Ask a Question