How to Survive an Unpaid Internship
It's not breaking news that jobs are scarce in today's working world. Not surprisingly, the number of unpaid internships is on the rise.
So, you have the perfect job in the perfect location, but the not-so-perfect paycheck. Check some ways to protect your wallet while bulking up your resume.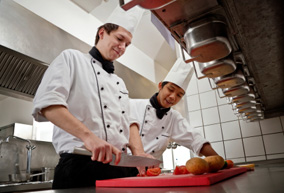 Plan Ahead
By budgeting a set amount to spend each week you will save money in the long run. Just because you have an internship does not mean you cannot have a good time during your employment.
Keep in mind rent, utilities, transit and other necessary costs. Once you have factored out these costs give yourself a little spending money for the fun stuff.
If you set a weekly spending limit you will be more likely to think twice about that grande-starbucks-mocha-latte-caffé-whatever. A good way to make sure you stay within your limit is getting cash out of the ATM — having the physical money in your hand will make you more conscious of your spending.
Breakfast of Champions
Everyone knows that breakfast is the most important meal of the day. It's also a great way to save money. Getting coffee and bagel every day at the local breakfast stand seems harmless, but after a while it adds up.
For Example:
• Large Coffee: $1.05
• Bagel & Cream Cheese: $3.00
Total: $4.05 or $113.40 per month.
Seems pretty harmless, but it definitely adds up.
Here is a list of more affordable food that should keep you stocked for a month:
• Cereal: $5.95
• Milk: $3.50
• Eggs: $2.89
• Oatmeal: $1.49
• A dozen bagels: $14.50
• Cream Cheese: $2.50
• Coffee: $6.00
Total: $36.83
You will save approximately: $76.57*
*Prices based on approximate grocery store and coffee shop averages.
Hit Up Happy Hour
Clearly, cutting out alcohol so quickly after college is not an option. In fact, it may be crucial for survival. After a hard week of laboring for low pay, it's always nice to unwind at the local watering hole with a couple of your fellow interns.
A great way to save money is to check out the happy hour specials before you head out. Websites like dailyhappyhour.com can help direct you in your search for the perfect deal.
Use Your Resources
Summertime is a great time to reconnect with the outdoors. It is surprising how many free events are around town. Doing something as simple as Googling 'free concerts' will turn up some fun and cheap leisure activities. Local newspapers, publications and fliers are also good resources to discover affordable events. Heading outside will help you get some fresh air and build familiarity with the town you will potentially be living in.
Taking an unpaid internship doesn't have to break your bank. As long as you make smart decisions when handling the money you have, you should be able to make it. Surviving your boss might be a whole different story.
Ask a Question