American Express Goes Social With MTV TJ Contest
If it wasn't clear which crowd American Express was catering to with its new ZYNC card, it is now. American Express is partnering with MTV to put together the "Follow Me: MTV TJ" contest geared toward young, Internet-savvy prospective customers.
The contest, which offers entrants the potential to "turn your tweets into a $100K job at MTV," gives people a chance to become MTV's first "Twitter Jockey," or professional tweeter.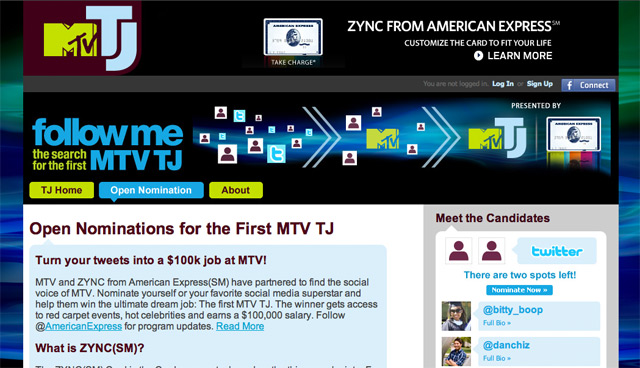 What's the Job?
The job sounds like a dream gig for many recent college graduates. MTV's TJ receives a $100,000 salary, a one-year contract in New York City, access to music and entertainment events and the opportunity to become an "MTV personality."
How to Enter a Friend (or Yourself)
To have a chance at getting the fancy new job at MTV, a person must be nominated using the MTVTJ app. You don't necessarily need to have friends to enter: You can nominate yourself to become a TJ.
MTV and American Express will name 20 candidates who will advance to compete in a series of Twitter-based challenges. Five finalists will move on to a televised competition on August 8 to decide who will get the gig.
To be eligible, you must nominate yourself or be nominated by June 27. The Online competition runs for two weeks in July before the live finale in August. The contest relies on "https://tweetlevel.edelman.com/ Edelman's TweetLevel" to help determine candidates' popularity on Twitter.
For more information on the contest from American Express and MTV, click here.
Ask a Question