Most of the writing devoted to the World Cup is focused on players, coaches and strategy. Goldman Sachs is taking a different approach by making a unique entry into the publishing world with its 75-page "The World Cup and Economics 2010."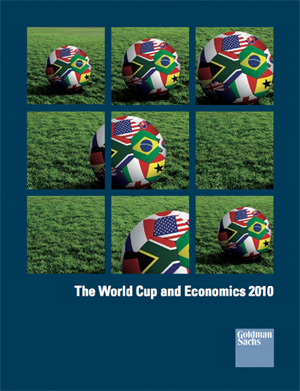 The book (available here in PDF form) provides a fairly thorough look at the World Cup from the standpoint of global economics. It includes analysis of each of the 32 participating teams, but it doesn't just compare the nations player-vs.-player. Instead, it offers breakdowns of each country and soccer team by political and economic factors such as soccer history, the state of the economy and the state of the nation. The book also includes a section that breaks down the history of the World Cup and provides correlations between countries' economic and political health and their success on the soccer pitch.
To gain a little insight on the world's biggest sporting event from one of the world's biggest banks, click here.