Bank of America Launches New 'Merrill Edge' Online Investing Tool
Bank of America® Merrill Lynch Corporation announced the launch of a new Online brokerage service on Monday aimed at clients with lower assets.
The discount brokerage service, called Merrill Edge, will help new investors "who are feeling pretty hurt by the downturn," wealth management chief Sallie Krawcheck told Reuters. The service is expected to compete with similar firms like Charles Schwab and E*Trade.
Traditionally Merrill Lynch worked with clients who had over $250,000 of liquid assets. The new Merrill Edge is designed to allow a wider demographic to invest with Bank of America®.
Advantages of Online Brokerages
Convenience — Conducting all your business Online can provide better access to the markets, which is one of the greatest benefits of Online brokerages. Investors can research stock quotes, history, trends and other information that will aid in making the best decision.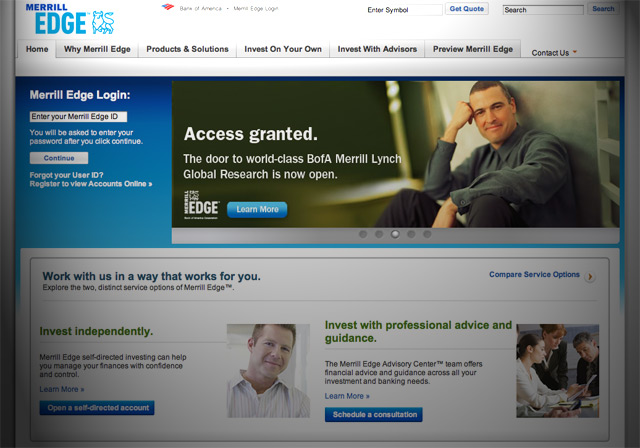 Price — Online trading is typically much more cost effective than using typical brokerage houses. By going Online, you take out the 'middle man,' so expertise fees and other commission fees for actual brokers will not apply.
Variety — Brokerages are now offering more options for the consumer. A larger variety of products will give limitless opportunities to find the best investment for your budget.
Up-to-date Information — There are many market research tools that provide real-time information on the stock market. This way you will know that all your market knowledge is current and your portfolio will constantly be updated.
Disadvantages of Online Brokerages
Lack of Supervision — Although online brokerages allow for more independence sometimes having a broker can help investors avoid making monetary mistakes. Online investment tools are for those who have some sort of knowledge on the financial markets.
Technology — The software used to make Online investments can be complicated and sometimes confusing to use. Those who are not technologically savvy may end up make costly errors. Not knowing how to navigate the website can also be financially limiting because of the inability to use certain sections.
Losing Track — When conducting your investments online, it is easy to forget you are using real money. Investors can make trading decisions too quickly and can end up investing too much money in a product.
If you know what you are doing, using an Online brokerage can be very beneficial for you and your portfolio. If you are not very familiar with investments sometimes it is better to leave it to the professionals.
Ask a Question