American Express 'Pass' Geared Toward Teen Shoppers
First, American Express targeted the hip, mid-20s crowd with its ZYNC card. Now, the card company is going after a younger demographic with Pass, a prepaid card that caters to teens and young adults.
Should Your Teen Use Pass?
Many parents aren't comfortable handing their children a store-ready card. Pass might be an exception to that rule.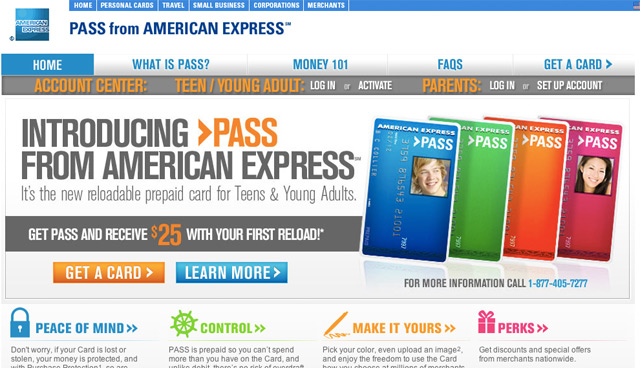 The new product from American Express comes with a number of safeguards to protect against both fraud and reckless spending.
The money on the card is protected by American Express Purchase Protection, which insures your funds in case of theft. The card also comes with roadside assistance service
The card is prepaid, so a teen or young adult cannot spend more than they have on the card. There is no risk of overdraft and parents can view transactions to help manage spending
It comes with the card company's Junior Achievement program, which is meant to teach young people financial basics.
Would Your Teen Want Pass?
Aside from the fact that you can put money on the card and make purchases either in-store or Online, Pass comes with some other cool features.
You can choose the color of the card or add an image to personalize the card
It comes with discounts at retailers and makes charitable contributions when you buy select items Online.
How To Get the Card
Pass is cheap, but it's not free. Holding a Pass card will set you back $3.95 per month, although that fee has been waived through October 1.
To get a Pass card, visit https://www.americanexpress.com/pass. That's the same website you'll visit if you want to reload the card at a later date.
Ask a Question