More Good News for Banks on Bailout Repayment
Taxpayers, hold off on criticizing big banks.
That was the message of U.S. Treasury Secretary Timothy Geithner earlier this week when he said banks had repaid about 75% of the bailout money they received. The banks received the funds starting in October 2008 as part of the Treasury Department's $700 billion financial bailout program called TARP.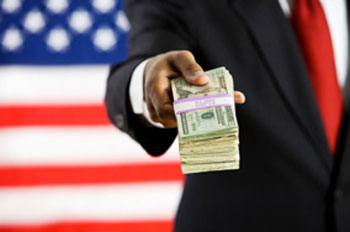 Bailouts Come at 'Much Lower Cost Than Anticipated'
Geithner, who spoke about TARP while addressing a watchdog group that had previously criticized the bailout plan, was optimistic about the effects of the plan on the U.S. banking industry and the shrinking burden it has put on taxpayers.
U.S. taxpayers were originally thought to be charged with the entire $700 billion bill, but quick repayment has dropped that cost to $105 billion. According to Geithner, the loans helped return the economy to steady footing and "did what they were supposed to do."
AIG Expected to Cost Taxpayers
Despite Geithner's positive take on the bailout plan as a whole, he did say that financial giant AIG would probably not be able to repay the entirety of its debt to the government. The government has estimated taxpayers will be on the hook for $36 billion of loans given to AIG.
Ask a Question