Fireworks Feeling Effect of Financial Downturn
One of America's most patriotic traditions is in danger of being cancelled in many places this year due to budget cuts. Towns across the U.S. are feeling the financial strain of hosting a Fourth of July fireworks salute. Other services, such as police and fire departments, are being cut, which puts an even greater financial strain on municipal budgets.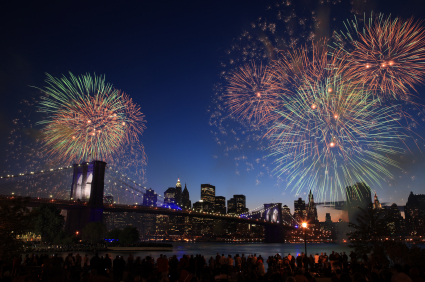 Cost of a Fireworks Display
Depending on the location, a fireworks salute the cost can range from about $10,000 to $20,000 — a high price to pay for 30 minutes of entertainment. The funding usually comes from a combination of tax dollars and donations. Typically, banks would provide the funding to towns but lately many banks have been pulling out due to the belief that fireworks are an expendable cost.
Should the Show Go On?
Although it has been more difficult to find funding for fireworks displays, there are still those who believe in this patriotic ceremony. Starbucks and Microsoft worked hard to save the Fourth of July tradition when they donated a total of $250,000 to the city of Seattle, Wash. Individuals and businesses raised an additional $500,000 for the city's show. The outpour of support was in order to preserve community bonding.
There are people who argue that the environmental impact of fireworks should be reason enough to cancel the display.
Although there has not been any conclusive evidence on the directly linked negative health effects of fireworks, there is proof they seep toxins into lakes and rivers. This has never been a large concern because of the infrequency of the shows and the small amounts of toxins dispersed. But they are still classified as toxins and are still adding to the pollution of our environment.
What's your verdict?
How important is it to preserve traditions such as Fourth of July Fireworks displays? Should we step in and focus our energies on improving the environment, or should we continue honoring a tradition that represents our country, family bonding and the innocence of summer?
Let us know your thoughts in the comments!
Ask a Question