Free Checking Accounts Could Become Victims of Financial Reform
Last year, when the Obama administration's scrutiny of the sketchy practices of major banks launched a movement toward financial reform, the overall public response was positive.
After the Credit Card Accountability Responsibility and Disclosure Act of 2009, however, banks and credit card issuers started fighting back by reducing consumer credit card limits and raising APRs. Now, with the addition of other financial reform measures, banks are contemplating cutting standard features such as checking account.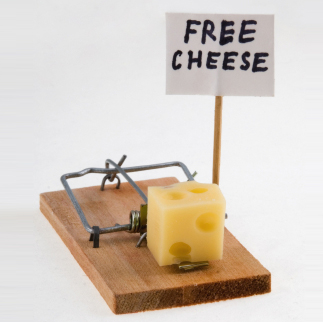 The Same Old Story
Banks now are rushing to compensate for the lost revenue when new overdraft protection fee rules go into effect July 1 for new accounts and August 15 for existing accounts. Unlike the months of preparation that consumers had when new credit card rules went into effect, consumers now could face abrupt changes to their checking account options.
Starting July 1, free checking accounts from Wells Fargo will be unavailable to new customers. Bank of America® is exploring new account options and fees are expected to show up later this year. Other banks will most likely do the same to try to replace the revenue lost by the lack of overdraft fee income.
Free checking accounts seem to be the first casualties on banks' chopping blocks. According to a report by Celent, more than half of all checking accounts are unprofitable, while it costs most banks between $250 to $300 annually to maintain each of them. The new overdraft protection rules have sent banks over the edge, forcing them to charge checking account maintenance fees and perhaps implement other new fees to supplement their revenue.
Banking customers in the near future could face heightened requirements in order to waive account maintenance fees. For example, you might need to maintain a higher minimum balance, achieve a certain number of monthly direct deposits and debit card transactions or sign up for other products offered by the bank. You could see preposterous fees for simple services such as going up to a teller, receiving a monthly paper statement or viewing an image of a cleared check.
Government Wants To Push Back, Again
The political system pushed the banks and now they're pushing back. And as banks transform their business models to cope with regulations, politicians are looking to stand in their way again.
On June 27, U.S. Senator Charles Schumer (D-NY) observed the trending practice of terminating free checking by the banking industry. Schumer is asking the Federal Reserve to overlook the operations of banks during this process because they are not providing customers adequate time to either prepare for the new fees or change banks.
Schumer wrote, in a letter directed to Fed Chairman Ben Bernanke, that it was "imperative that the Federal Reserve work to prevent banks from imposing additional, hidden fees" and urging that he "pay special attention to financial institutions as they implement these adjustments."
Should Bernanke and the Federal Reserve impose some form of supervision to restrict the earning potential of banks, the relationship between politicians and the financial industry could remain in an eternal tug-of-war while consumers end up suffering.
Would you consider changing banks if yours dropped free checking? Feel free to leave your opinion in the comments section.
Ask a Question