Financial Reform Bill Could Benefit Small Banks
Many of the questions surrounding the financial reform bill being passed through Washington have centered on its potential effect on banks: How much money will institutions lose? Will banks stay afloat? How will the regulations affect every day banking customers?
One thing is certain: Big banks will feel a negative impact as a result of the new legislation, although it might not make a bottom-line-shattering dent in their massive budgets. But what will the new rules do to small banks and their customers? Turns out some small banks could actually stand to benefit from the legislation, which could harm their larger competition and provide them with some friendly breaks.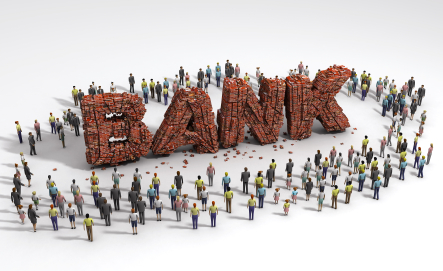 What's in it for Small Banks?
Community banks will receive a few concessions from the government if the reform passes in its expected form.
• Fewer Securities Restrictions
Big banks got into trouble when their investment banking arms became too intertwined with their consumer banking services and their risky practices helped push the real estate market and greater economy into a spiral. Small banks, on the other hand, didn't have the assets to purchase and trade sophisticated products. Because they were not originally at fault, small banks won't face the same restrictions on outside investment that bigger banks will.
• Reduced Exposure to Bad Loans
Small institutions will be allowed to reduce their exposure to harmful mortgage products by selling them off to other investors. Reduced exposure to these harmful assets could save some foundering small banks.
• Relaxed Interchange fee Rules
The interchange fee limits that will cost big banks billions won't hit small institutions as hard. The fees, which banks make retailers pay when customers use debit cards, will be limited for big banks. But small banks will be exempt from the new rules, meaning they can keep their interchange fees high and rake in revenue. Small banks are still worried that retailers might disallow the use of their cards if they do not slash interchange fees.
• Reduced Payments to the Government
Under the new plan, small banks would not have to pay the Federal Deposit Insurance Corporation (FDIC) as much as big banks would. The nation's 5,000 community banks could save a total of $1.5 billion per year in this case, according to The Independent Community Bankers of America.
What's in it for you, the Customer?
If you have an account — or are thinking of starting one — at a big bank, you might feel some negative repercussions as a result of the legislation.
Banks appear to be slowly phasing out free checking accounts as a way to save some money. Wells Fargo has already announced its plan to cut free checking for new members, and Bank of America® could be next.
If you bank at a small institution, however, you probably won't have to worry about new fees or fewer available accounts — for the time being, at least. Community and Online banks are already known for their attractive interest checking offers — as long as you meet certain requirements — and customer-service advantages. If you can handle having fewer branches to choose from and less name recognition, your community bank might be the better place to bank in light of the government's new rules.
Ask a Question