JPMorgan Chase Program Rewards Small Businesses
In a push to help decrease the unemployment rate and increase the number of borrowers, JPMorgan Chase is providing an incentive to small business owners that could help the economy as a whole. Chase on Wednesday announced the launch of a new Chase Business Line of Credit, which rewards small businesses that add new employees.
Rewarding Small Businesses
In an attempt to prove its commitment to businesses, for each new employee hired Chase will lower the interest rate by 0.5% — up to 3% — for the life of the loan.
"We encourage businesses to take advantage of the lowest interest rates in years and to create more jobs for the economy," said Jamie Dimon, Chairman and Chief Executive Officer of JP Morgan Chase. "We know how important it is to help small businesses because they are core to the U.S. economy."
If the program is successful, the new hires and their salaries could help boost spending and stimulate the economic recovery. This offer, for new and existing owners, requires new owners to be approved for a Chase Business Line of Credit for up to $250,000 and existing owners to increase their line of credit by $10,000. Chase business checking customers will be eligible for an additional half-percent discount on their loan rate.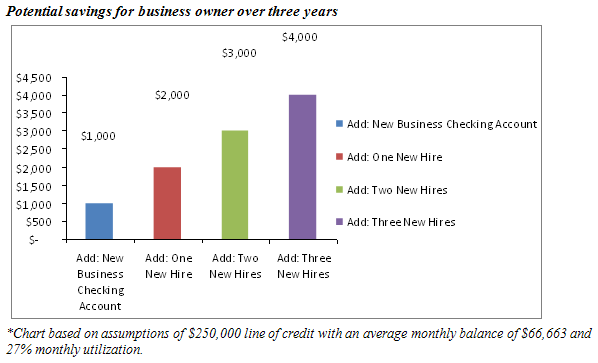 Other Business-Friendly JPMorgan Chase Initiatives
Another way in which JPMorgan Chase is trying to reach out to small businesses is by holding seminars to explain how local business owners can increase sales and fund their businesses. The seminars will be held in 11 cities across the country and include a panel of local bankers, business owners and representatives from the Small Business Administration and Chamber of Commerce.
The institution earlier this year announced a plan to increase lending by $4 billion in 2010 and to hire 325 additional business bankers.
To read a press release from JPMorgan Chase, click here.
Ask a Question