Chase iPhone App Adds Mobile Check Deposits
JPMorgan Chase Bank (JMP) recently incorporated a free Quick Deposit feature to its updated iPhone application, allowing you to deposit checks without ever having to make the trip to a nearby branch.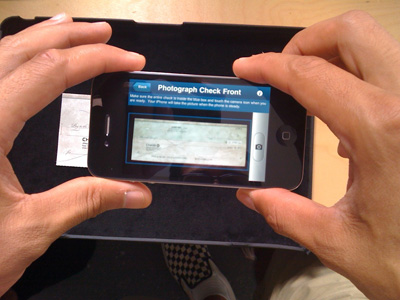 Chase Introduces Mobile Deposits, Quick Pay Features
If you're an iPhone user and a Chase member, you simply need to download the app, sign in, snap a photo of the front and back of the check and validate some final details before the deposit takes place. No writing or envelope sealing is necessary. Anyone can access the application after signing up through an iPhone at no cost.
The updated mobile app also consists of a Quick Pay feature, enabling you to pay anyone on the spot through your Chase account. All you need to make a payment is the payee's E-mail address. Chase's entrance to Quick Deposit and Quick Pay will open the feature to a much wider audience and offer them a promising glimpse into a future of convenient digital financing.
How Common is Quick Deposit?
Chase's entry to the mobile deposit market may make one of the mobile banking industry's biggest splashes, but Chase isn't the first bank to offer the envelope-free deposit service. USAA, which launched its mobile deposit service last year, is one of the most notable institutions to offer the service.
As of now, few banks are offering the Quick Deposit feature. Chase is the first out of the big four ( Bank of America, Citigroup, Wells Fargo, JPMorgan Chase) to include the service in its mobile app.
Ask a Question