How to Keep Your Money Safe With the FDIC
As a basic rule, banks are among the safest places to keep your money — the Federal Deposit Insurance Corporation (FDIC) makes sure of that by insuring all deposits up to $250,000.
Some cases exist, however, in which your money might not be completely secured in the event of a bank failure or closure. If you have large sums of money in bank accounts and think you might exceed the FDIC's deposit insurance guidelines, take a few steps to make sure your money is safe.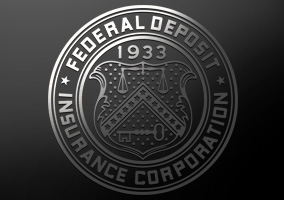 Take the FDIC's Official Insurance Test
The FDIC provides a free Online tool to help consumers gauge whether their money is covered. The Electronic Deposit Insurance Estimator (EDIE) allows you to input your financial information and view a report on your assets.
To use EDIE, just visit this site and follow the instructions. You will be asked to give information on all of your accounts at each particular bank (balance, ownership details and beneficiaries). You don't necessarily even have to use your real name — the EDIE service will give you an anonymous estimate. The program produces a report that tells you if you are fully insured or not and at which banks, if any, your deposits exceed insurance limits.
Keep Track of Your Funds
Say you're preparing to make a sizeable purchase such as a new home. You put the necessary funds in a bank account, but that amount might exceed the FDIC's insurance limit.
Instead of throwing all the money into one account, try splitting the funds into halves and opening an account for yourself and your spouse or two accounts for yourself. That way you can keep less than $250,000 in each account and insure your savings against the possibility of a bank failure or other catastrophe. There are other ways to make sure your over-limit funds are insured, such as changing some of the beneficiary or account details.
Use the Available Resources
The FDIC does a good job of providing resources to Americans wanting to learn about financial insurance. It's up to you to take advantage of the available knowledge.
The FDIC produces two publications with information on deposit insurance. You can read them and order free copies at www.fdic.gov/deposit/deposits. You can also view a 30-minute video from the organization here.
Ask a Question