Add 2% to Your Salary With Coupons
Coupons offer big savings for consumers and big opportunities for businesses across America, despite the fact their individual value is usually less than $2 a piece. In fact, 2009 saw 3.3 billion coupons redeemed, according to Coupon Trends Report.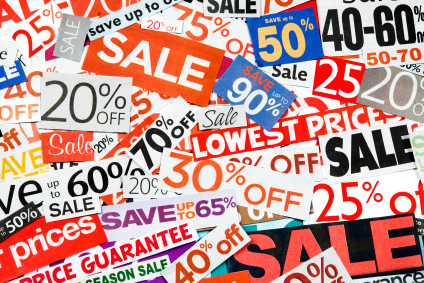 But are coupons really worth the trouble?
To find a good deal, you often need to scour the newspaper or the Internet. After that, you have to either print or clip the coupon and transport it to the store to redeem the deal. Let's take a look at how much you can add to your earnings by using coupons when you shop:
Earn an Extra Flat-Screen TV by Grocery Shopping
The average face value of a coupon in 2009 was $1.44, according to the Coupon Trends Report.
If you take one big trip to the grocery store per week, you might redeem five coupons per week. If you are buying groceries for your whole family, you might take two trips or use double the coupons during one trip, bringing your weekly coupon total to 10.
Using five coupons per week would save — or earn — you an average of $7.20, while 10 coupons could give you $14.40 of savings per week. For a light shopper, that would be $374.40 extra per year. A family-sized shopper would take home an extra $748.80 per year.
If you make the yearly U.S. per capita income of $34,949, using 10 coupons a week would grow your yearly salary by 2.1%. That's not a huge amount, but it would help offset costs such as taxes or mortgage payments. Using five coupons per week would get you about 1% extra per year.
With that extra money, you could save or make purchases. If you did decide to make a purchase, you could buy a few trips' worth of groceries. You could also splurge and pick up a new flat-screen television. Five coupons per week would earn you a 26-inch, 1080p Insignia television. Using 10 coupons a week, you could upgrade to a 42-inch Panasonic plasma.
Ask a Question