Fulton Financial Corp., Two Other Banks Recognized by Forbes
The corporate world has not lacked for scandal recently, with Goldman Sachs Bank USA being at the forefront of headlines. That is why it was so refreshing when Forbes.com earlier this summer came out with a list of the most trustworthy companies that included multiple banks.
Forbes used Audit Integrity to put together a list of companies that "have consistently demonstrated transparent and conservative accounting practices and solid corporate governance and management." Although no banks made it to the 'The Most Trustworthy Large-Cap' list, they did take spots in the Mid-Cap and Small-Cap areas.
Each company on the list received a minimum Accounting Government Risk (AGR) score. This score is used for measuring the risks involved with certain investments.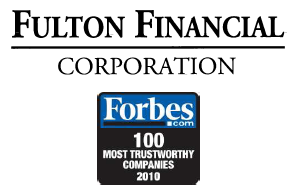 Most Trustworthy Mid-Cap Banks
Fulton Financial – Regional Bank — Current Quarter AGR Score: 91
Fulton Financial Corporation is a $16.6 billion holding company. Located in Lancaster, Penn., the company mainly operates in the Northeast.
Most Trustworthy Small-Cap Banks
Nara Bancorp – Regional Bank — Current Quarter AGR Score: 93
Nara Bank has served a mainly Korean-American base in Southern California since 1989. It has grown to include customers from diverse ethnic backgrounds and now has offices in major cities nationwide.
TrustCo Bank Corp NY – Regional Bank — Current Quarter AGR Score: 83
TrustCo Bank has been striving to provide low-cost, high-quality service since 1902. Located in Glenville, NY, TrustCo serves customers throughout the New York area.
These banks have made it their missions to promote a strong sense of integrity and provide reliable service to their customers. Thanks to Forbes they have received the recognition they have worked hard for.
Ask a Question