How to Get a Good Deal on an Auto Loan
The new Dodd-Frank Financial Reform Bill offers quite a few consumer protections, most notably in the mortgage lending and consumer banking industries. One thing the sweeping financial reform does not cover, however, is the automobile loan industry.
Auto dealers and other institutions involved in issuing auto loans escaped without much additional regulation, in part because of the support of some Republican lawmakers.
If you're just out of college and looking for a new car to match your new job, it might be the first time you've had to purchase a car for yourself. Buying a car can be a time-consuming and tricky process.
Here are three things Congress did not include in its financial reform bill that you should look out for when buying a car.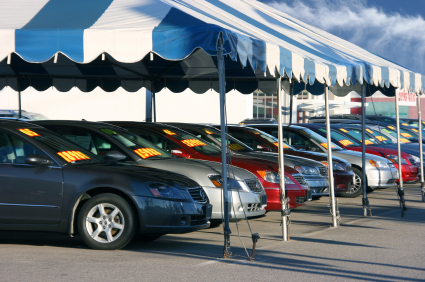 Unnecessary Add-Ons

Some dealers might try to convince you the only way you can get a certain loan or a lower rate on a loan is to purchase additional accessories for your new vehicle. These add-ons could be anything from aesthetic extras such as upgraded wheels or a new paint job to more under-the-hood accoutrements such as a security system. Aftermarket add-ons from dealerships can cost you up to $5,000, according to Edmunds.com.
Telling customers that adding aftermarket accessories is a necessary part of a loan or purchase is actually illegal, but the industry's lack of oversight and regulation makes it hard to punish guilty dealers.
Marked Up Loan Rates
The auto loans offered by dealers usually come through the dealer from an outside loan issuer. That issuer — typically a bank — gives the dealer a wholesale rate to use based on your credit score and history.
The problem is, the dealer can then mark up the rate by as much as 3%. It's in the dealer's interest to add as much as it can to the loan, since any markup becomes profit for the car sales firm. In the past, dealers were allowed to hike rates even further than they can now, but the financial reform bill did not do anything to eliminate the 3% cushion currently enjoyed by dealers.
Loan Approval Problems
A rare but troubling practice is the yo-yo strategy employed by some dealers.
When you find the car you want to buy, agree on a price, loan and interest rate and drive away, your dealership experience should be — and usually is — over.
In some cases, however, you might not be done with the dealership when you drive your new car home. If there are errors on your credit application, whether intentional or accidental, you could need to come back and renegotiate another car loan. That loan could end up with a higher or less attractive rate. You could steer clear of this problem by securing your loan and rate from a bank or credit union directly instead of filtering the process through a dealer that might not have your best interests at heart.
How Did Auto Loans Fall Through the Cracks?
Given the fact that the Dodd-Frank legislation was fairly comprehensive and tackled a wide range of consumer and industry issues, it was surprising that it did not cover the auto loan industry more thoroughly.
U.S. Sen. Sam Brownback (R-KS) was the lawmaker who fought on behalf of the auto sales industry, saying that the businesses had more in common with "Main Street" than "Wall Street." This assertion came despite the fact that many dealer-originated loans are included in the bonds packaged by Wall Street firms and that many dealerships are owned by companies traded on the stock market.
Ask a Question