ING DIRECT Launches New Mobile App For iPhone and Blackberry
ING DIRECT is keeping up with the banking industry's mobile app craze by launching its very own app to make banking a bit more convenient for customers. The app is compatible with iPhone and Blackberry phone.
ING DIRECT's mobile app could allow you to conduct your banking business on the go using the following features: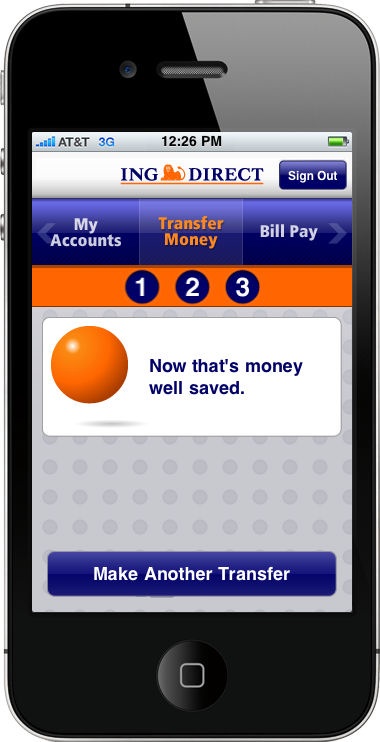 Person2Person Payments: This feature allows customers to quickly and easily send money to existing contacts in their P2P address book. This takes the hassle out of transferring money and makes the whole process faster.
Account Summary: The summary displays all the accounts and account details such as account number, balance, and transaction summary and details. With instant access to all your account information it will help keep you organized and on top of your payments.
Transfer Money: Allows customers to transfer money between their Electric Orange, Orange Savings, and linked external checking accounts. To learn more about these accounts and what they do, click here.
Bill Pay: Customers can manage their Bill Pay preferences, which they can established through ING DIRECT's website.
Refer a Friend: Much like referring friends via the website, mobile users are able to send a referral E-mail from the palm of their hand.
Flip for Fun (iPhone only): Turning the iPhone sideways provides one touch access to all of ING DIRECT's social media accounts – Facebook, Twitter, We the Savers, and YouTube.
ING DIRECT is an Online bank that offers services to everyone regardless of location. Its primary goal is to promote saving among their customers in the simplest ways possible. For more information visit the bank's website or the app's iTunes page.
Ask a Question