Searching for a New Job? Check Out These 6 Tax Deduction Facts
When you're looking for a new job, money is usually at the top of your priority list. How much will you make? How much will you spend?
What you may not realize is many of the costs incurred during your job search are tax deductible. Here is a list of six things you should know about deductions related to your job search.
1. Switching Careers is Not Deductible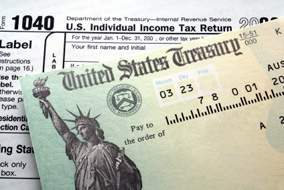 Unfortunately, the IRS does not consider looking for a job in different career field as a deductible cost. The agency specifically states, "the expenses must be spent on a job search in your current occupation."
2. Outplacement Agency Fees
When an employer downsizes or displaces individuals they can opt to hire an outplacement agency. The good thing about using an outplacement agency is a greater reach of potential employers, which can shorten the job search process. Sometimes an employer will reimburse you for agency fees later that year. If this occurs you must include the amount you receive in your gross income up to the amount of your tax benefit from the previous year.
3. Don't Worry About Postage Costs
In our technologically advanced world it seems like everything is taken care of on the Internet these days. Usually businesses highlight whether they prefer to have you apply for a job Online. If a company doesn't specify sometimes sending a physical copy of your resume adds a personal touch. In the current economy, you may be sending out tons of resumes, so being able to deduct the amount you spend for preparing and mailing your resume can be a big help. Remember: Your job hunt has to be in the field in which you are currently working.
4. Save Any Travel Receipts
Sometimes interviewing for a job can require you a flight out to the location. You may be able to deduct travel costs depending on whether or not the trip out was primarily for business purposes. You will have to look at the amount of time you spent doing personal activities with the amount of time you spent in relation to the job search. Considering relocating for a job can increase your chances of getting hired.
5. Time is of the Essence
If there was a long break between the time you left your previous job and started searching for the next one, you will not be eligible to deduct job search expenses. This may give you some motivation to start the search right away.
6. Sorry Graduates
As if getting a job after graduation wasn't already stressful enough, there is no tax relief for first-time job hunters. Looks like you'll have to bite the bullet and cover all the expenses on your own.
Check out IRS.Gov to find out what other tax deductions you are eligible for.
Ask a Question