Strings.com: A Social Network That Could Help You Save Money
If you receive your bank statements and marvel at the amount of money you have spent at various Online merchants, Strings.com could help you track your shopping.
Strings.com is a social networking site that tracks almost everything you do Online: Movies you watch, articles you read, music you hear, stuff you buy and where you check in on Foursquare, among others.
"Strings enables users to organize, share, and discover interesting and relevant content," said Strings CEO Edward Balassanian. "The service allows users to connect their favorite online accounts to a private profile where all their activity is organized, analyzed, and instantly accessible to them over the web or phone."
Aside from giving friends another way to connect, the site breaks down your purchases into categories so you can easily see where you're spending too much, just the right amount or too little.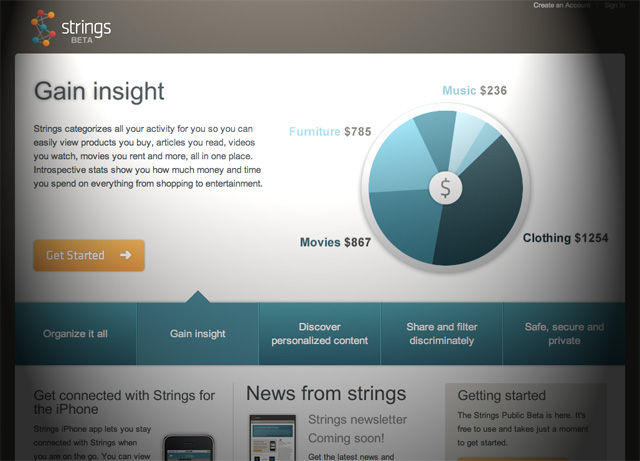 Track Your Spending
The way Strings.com works is by offering a number of "trackers" users can add to their accounts. Many of the 60-plus trackers offered by the site are for Online retailers such as Apple, Saks Fifth Avenue, Amazon and Barnes and Noble. Strings.com hasn't paired up with every store on the Internet at this point, but its list is remarkably comprehensive.
At this time, you can't link the shopping trackers to your bank accounts like you can on social shopping site Swipely.com. This could actually be a good thing, depending on how you feel about submitting your credit card information to social networking sites.
Strings.com isn't the be-all, end-all resource for staying current on your spending — that's what bank statements and good judgment are for. But it could be a valuable tool for those who like to shop Online.
"For online shoppers (Strings.com) is a real value since it allows you to track everything you purchase from one account," Balassanian said. "With our charts app (available to beta testers and soon to the public) you can view graphical charts that show you a break down of what you spend your money on."
The site could benefit banks as well because of its location-based capabilities. Strings.com aggregates FourSquare checkins, allowing banks and other businesses to see where customers are congregating and doing their banking or shopping.
Entering a Crowded Market
With the growth of social networking, a few different "social shopping" sites have sprung up. Blippy.com and Swipely.com are sites that track users' Online and in-person purchases by using credit card information. BeachMint.com, a yet-to-be-launched eCommerce site from one of the co-founders of MySpace.com, will reportedly offer Online shopping advice from celebrities and industry experts.
Strings.com launched in February 2010 but remains a Beta site. Balassanian said the Bellevue, Wash.,-based company's focus for the rest of the year was to expand its partner program to include more retailers.

Ask a Question