Opening your child's first bank account can be an educational experience that could spur the development of sound financial habits such as saving and responsible spending.
When you feel that your child is ready to step into the world of financial responsibility, it may be time to open a bank account for your child — a move that could be a major milestone in your child's life.
Your Child's First Banking Experience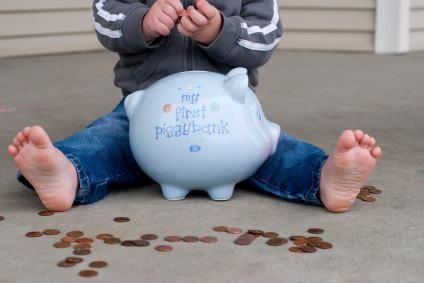 You may want to research the banks or credit unions in your area that offer youth savings accounts for children. The ideal bank account for your kid would have no account maintenance fees and no minimum balance requirement.
Visit a local brick and mortar branch and let your child take center stage when it comes to opening the bank account (supervise the process between your child and the bank's associate). Make sure the account is in your child's name so that all bank correspondence is directed to your child. Therefore, your daughter or son will receive statements via mail much like the adults in the household.
Guide your child through the process of depositing money — don't do it by yourself. Walk into a branch and let your child hold the money and deposit slip. Wait in line with your child and let your child interact with the teller.
The conventional use of passbooks is going extinct. If the bank no longer offers passbooks, keep a binder for your child's bank account statements. With these financial records, you can help your child set savings and spending goals so that they'll be accustomed to these money habits when they grow older.
With technology ushering in a new age of online and mobile banking, it becomes easier and easier to access our bank accounts from home and on the road. While it may be convenient for your children to log into their accounts online, information security is a reason for parental concern, as is many other forms of questionable content available on the Internet.
Most parents will refrain from allowing their children to access Online accounts until they've exhibited an increased maturity level. If online access is a must, parents should supervise the child's web-surfing session.
The Significance of This Experience
Parental influence is greater at a younger age. If children are exposed to proper handling of money, they are more likely adopt the same financial habits as they get older.
Occasionally, you may have brought your child with you to the bank. And, you may have seen your child's curiosity as he or she studies the machine that offers money with a card and few pokes on a screen. Whether you noticed it or not, your child has been observing your banking activity and learning that the bank is a place where one can take money out and put money in.
From time to time, children pretend and fantasize about becoming an adult. Establishing a relationship between your child and a bank represents a transition from youth to adulthood. As your child tries harder to be more like an adult, opening a bank account of their own is a monumental step towards adulthood and also a memorable experience.
Ask a Question