U.S. Bank ScoreBoard Simplifies Small Business Banking
U.S. Bank is trying to give its small business customers a clearer look at their finances with its new ScoreBoard online tool. The bank issued a release Thursday announcing the launch of the new feature.
What ScoreBoard Does

The ScoreBoard tool, which is available to any existing or new small business credit card member, gives users charts and graphs that display credit card purchases and payments in-depth. In addition to tracking your own spending and payments, you can keep tabs on the money you accept from others through credit card transactions. The tool also includes the capability to create and download customized, business-specific reports.
"ScoreBoard is unique because it gives our small business customers the ability to monitor their own spending and insight into how their sales trends compare to similar merchants in their business category," said Pam Joseph, payment services vice chair at U.S. Bancorp.
An In-Depth Glimpse
Aside from the basic charts and graphs offered by ScoreBoard, U.S. Bank is giving small business owners a thorough look at their finances. Business cardholders can monitor individual employee spending, organize expenditures by category and sort purchases by volume, merchant name or price.
If you process payments through U.S. Bank Merchant Services, you can review your sales by price, payment type and volume. You can get easy access to the growth rate of your sales and compare your business to its regional or industry competitors.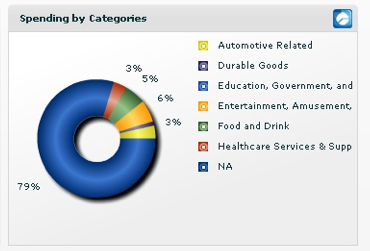 Ask a Question