Study: Analysts Too Optimistic on Investments
In most cases, optimism is a good thing. When it comes to managing your money, too much of a good thing can hurt.
Financial analysts have been overoptimistic on the stock market's performance by a wide margin over the past 25 years, according to data released by McKinsey & Company. Add this to the overoptimistic feeling that accompanied the real estate bubble preceding the mortgage meltdown and it appears the optimistic economic feelings that developed during the late 20th century played a substantial role in triggering the recent financial crisis.
Managing Money Realistically
The best rule is to never spend more than you have — or at least more than you are confident you can repay in the near future.
Where it's easy to get into trouble is when you count on a return from your investments that never comes. Say you take out a mortgage on a $300,000 house. You'll probably end up paying about $1,500 per month for a long period of time to pay off the home. Though you may not be making enough in your current job to cover the full cost of the mortgage, you're counting on your investments to carry you the rest of the way.
That may or may not be a good idea, depending on the value and appreciation of your investments. Many people who realistically evaluated their investments and expenses have managed and grown their portfolios to cover life expenses such as a new child or house. Others, however, put too much stock in the upside of their stocks and paid the financial consequences.
Overoptimism Common Among 'Experts'
From 1985 to 2004, financial analysts predicted the earnings of S&P 500 companies would grow at a rate between 12% and 18%. Stocks rarely met those expectations, however, breaking a 12% earnings growth rate for a period of several years.
Even in the throes of the economic recession, analysts kept their forecasts optimistic, guessing in 2009 that stocks would add 12% annually to their value. Instead, growth plummeted as the recession began and companies actually began losing value. In the 25-year period evaluated by McKinsey & Company, stocks met or surpassed analysts' expectations just twice, for a total of about three years.
All this data goes to show it's better to spend what you have than spend what you don't.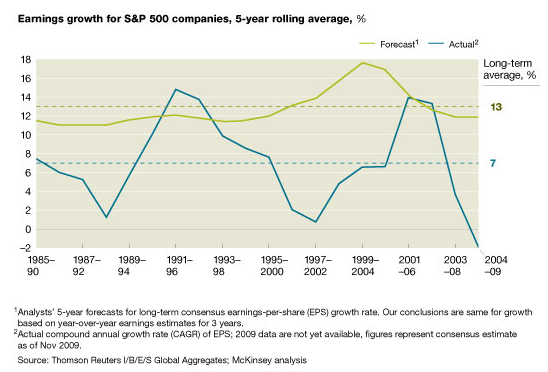 Ask a Question