FDIC Insurance Limit Permanently Increased
The financial reform legislation put into law last week by President Barack Obama permanently raised the standard maximum deposit insurance amount to $250,000. Previously $100,000, this new insurance limit covers all deposits placed in Federal Deposit Insurance Corporation (FDIC)-backed banks.
"Insured deposits provide the comfort and peace of mind to depositors that their money is 100 percent safe – provided they keep their deposit balances within the insurance limits," said FDIC Chairman Sheila C. Blair. "With this permanent increase of deposit insurance coverage to $250,000, depositors with CDs above $100,000 but below $250,000 will no longer have to worry about losing coverage on those CDs maturing beyond 2013."
The insurance level was raised temporarily through 2013, but the new legislation made the additional $150,000-per-depositor boost permanent.
The raised levels of insurance will also extend retroactively to banks that failed between January 1 and October 3, 2008. Those banks include Hume Bank, ANB Financial, IndyMac Bank, First Priority Bank, The Columbian Bank and Trust Company, and Silver State Bank. Adding those banks to the list of the insured reduced the uninsured consumers from more than 10,000 to approximately 500.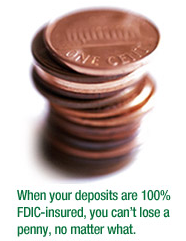 How Does This Affect You?
If you store large amounts of money in your bank accounts, this ruling could certainly affect you. Before the insurance limit was raised, any assets you held in an account past the $100,000 limit were uninsured. If your bank failed — which isn't an uncommon occurrence these days — your money could go with it. That is still true of any funds you have past the limit, but the limit is now 150% higher than it was, securing the deposits of many more Americans. The FDIC's Electronic Deposit Insurance Estimator (EDIE) is a calculator that tells you whether or not your money is protected and how you can organize your accounts to ensure your money stays insured.
Updated brochures on deposit insurance coverage (including the basic guide, Deposit Insurance Summary and a more comprehensive guide) and EDIE are now available on the FDIC's website.
Ask a Question