How Does The EverBank Online Financial Center Stack Up?
EverBank earlier this year released its Online Financial Center, an online banking tool that offers a more in-depth experience than many run-of-the-mill banking websites do.
From linking external accounts to giving users an easy way to open new accounts, EverBank's new offering looks like an extensive and well-rounded online banking service.
With almost every major bank offering a user-friendly online system these days, an institutions needs to create a truly great interface to separate itself from the competition. Has EverBank succeeded? Let's take a look at how EverBank's features compare to those offered by its competition:
EverOne Summary Simplifies Personal Finance

EverBank's system collects an astoundingly large amount of personal finance data from many sources. Thankfully, the EverOne Summary page does a solid job of displaying pertinent information in an easy-to-absorb way.
The summary page breaks down your finances into Assets and Liabilities. From there, you can take a look at the standing of your deposit accounts, investment portfolio and retirement funds, among other assets. Your liabilities are split into categories such as credit cards, loans, and other liabilities. At the bottom of the screen, you can get a quick and simple glimpse at your net worth. You can also keep track of your rewards through this summary page.

All-Inclusive Account Management
One of the big draws of EverBank's Online Financial Center is its ability to track all of your accounts, not just your EverBank accounts. The Financial Manager tab gives you complete control of your banking situation. You can link an unlimited number of accounts — EverBank or not — to the system. Once your accounts are added, the financial activity and spending analysis quick links provide an accurate picture of when you spend and what you buy. The system will alert you via E-mail if you set up alerts for when you come close to overdrafting an account.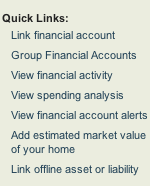 If you want to go beyond checking, savings and credit card accounts, EverBank's World Markets tab allows you to navigate the world of investing, from currency markets to commodity markets. If you feel like opening a new EverBank account, it's easy: Just navigate to the Open an Account tab and choose the kind of account you want to open. If you choose to pay bills through EverBank's online system, you can customize your payments down to the date they are set to expire, if you want to avoid accidentally paying your electric bill for one month too many.
EverBank Puts Usability Ahead of Aesthetics
For some people, the way an online banking service looks and feels can differentiate the site from the competition in a positive or negative way.
If you're looking for pizzazz, the EverBank Online Financial Center might not be the place to look. EverBank's system puts functionality first and beauty second. But for any serious user of mobile banking, the system's impressive capability trumps its average looks.
What EverBank is up Against
With so many online-equipped banks to choose from, EverBank would need to go above and beyond to make a splash in the online banking world.
One institution that has done a good job of providing online services is Discover Bank. Discover Bank's Account Center is a simple-yet-comprehensive online system. Discover lets you add accounts and change your settings with ease and allows you to view up to 24 months of transactions and account activity.

Discover Bank includes most of the account information on one page, saving you the trouble of extra clicks and navigation. You can make bill payments and sign up for E-mail alerts just like you can with EverBank's system. You can also use Discover Bank's Spend Analyzer and Paydown Planner to make timely payments and monitor spending.
EverBank's newest online offering might not match Discover Bank's established system on looks alone, but EverBank's extra features make it a worthy product in the crowded online banking market.
Ask a Question