How Financial Reform Could Affect Your 401(k)
The recently passed Dodd-Frank Wall Street Reform and Consumer Protection Act focused much of its energy on reforming the activity of big banks and Wall Street. At the same time, the act also included measures that could affect your retirement funds.
Regulators will spend 15 months deciding how to categorize funds included in many 401(k) plans. Depending on what they decide, your retirement funds could face negative consequences.
'Swaps' or Not? That is the Question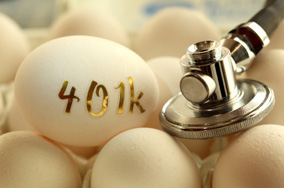 Many 401(k) plans include conservative investments known as "stable-value" funds. In the wake of the Dodd-Frank Act, these stable-value funds are left in limbo.
The stable-value funds usually include a portfolio of bonds and products called "wrap" contracts, which investors can trade at a steady value. During the negotiation of the bill, financial industry insiders fought against the labeling of the wrap contracts as "swaps," which would be considered derivatives and subject to many new regulations. Lawmakers never decided the fate of wrap contracts, instead choosing to study the issue over the next 15 months before making a final decision.
How Would This Affect My Retirement?
If regulators were to deem these wrap contracts swaps, it would make them tougher to issue and more costly. In turn, any 401(k) funds with high numbers of wrap contracts would become more costly. Adding cost to the contents of your 401(k) would lessen its value and your returns.
The financial reform act seems to provide consumers and investors some favors, including added disclosure on 401(k) funds. But this particular move might be a potential negative to watch out for in the next year or so.
Ask a Question