RBC Launches 'myFinance Tracker'
The Royal Bank of Canada earlier this summer launched myFinance Tracker, another addition to the growing market of personal finance management tools. For customers having trouble organizing their finances, this new platform seems like a nice solution.
myFinance Tracker Makes Budgeting More Simple
RBC's personal finance management tool automatically categorizes transactions, tracks and analyzes expenses and provides advanced budgeting skills for any personal banking or credit card accounts you input. According to RBC, the system has been set up for customers to better understand on which items they are spending the most money.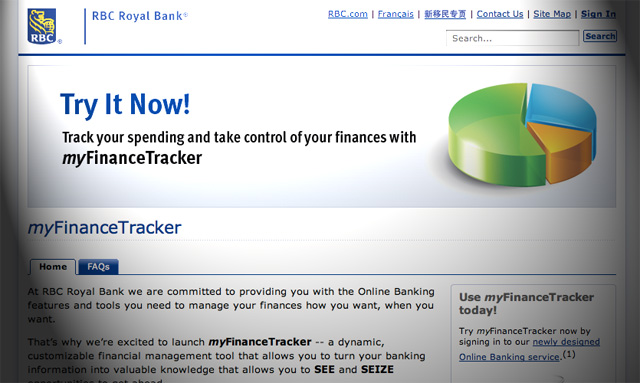 Here's a breakdown of some of the capabilities of myFinance Tracker:
Categorized Transactions — The tool lumps your purchases into preset categories to illustrate which kinds of items you spend money on most frequently
Expense Analysis — On top of breaking spending into categories, RBC's tool provides charts and graphs that add a visual element to your personal finances
Budget-Setting — If you're having trouble keeping your finances in order, RBC's budget-setting tool allows you to set limits on certain expenditures to help you monitor your spending
Calendar/Alerts — You can put together a financial calendar to alert you of payment due dates and other money milestones. The tool's alerts system can let you know if and when you come close to overdrawing one of your accounts
Potential Fallback
RBC created its PFM solution in response to a recent poll demonstrating demand for more advanced—yet simple—online banking capabilities. However, RBC has decided not to include account aggregation capabilities in myFinance Tracker.
This might frustrate many users who have multiple accounts with different banks, because they would only be able to view a partial picture of their finance activities. EverBank recently introduced a product with account-merging capabilities.
Ask a Question