U.S. and European Economies Brought Together by Crises
Media outlets have provided constant, in-depth coverage of the European debt crisis as top economists try to decipher its implications. There is no doubt Europe and the U.S. are closely tied by trade, travel and other major industries. These ties result in much speculation about how Europe's market is affecting the U.S and vice-versa.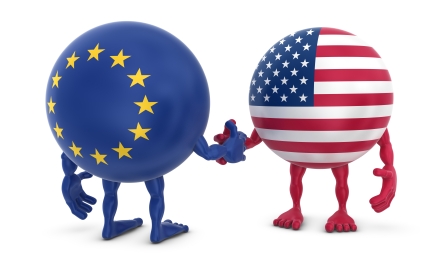 Pressure to Increase Trade
One of the main connections between Europe and America is trade. The European economy has been under a lot of pressure to increase selling and the slowing of the U.S economic growth has made the U.S desperate to increase trade. The problem with the two markets utilizing each other to increase economic growth is that it reduces the incentive to create more jobs in either market. If the U.S is taking its business to European countries, domestic companies might not want to make more hires because there is relatively low demand for the domestically-produced good in the U.S.
Any improvement in the European market could make it more difficult for the U.S. economy to pull away from the recession. Companies could start looking overseas to find stability.
European Banks and U.S. Money-Market Portfolios

Many U.S banks are looking to diversify by working with European banks despite Europe's debt woes. The sheer number of bank failures has caused the U.S. to turn to Europe, as well as other continents, to fill money-market fund portfolios for American investors. Basically, the constant shrinking of banking institutions is diminishing domestic commercial paper supply and stalling market growth.
Economists speculate that America's move of buying debt in Europe could become more and more popular in the upcoming years. The decision to buy European paper may seem like a risky move to some investors, but so far it has been working in the favor of U.S. banks.
What do American Companies Think?
Reuters interviewed executives at leading global firms, including Toyota Motor Corporation, United Microelectronics Corporation, Panasonic, Emerson Electronic and some others. The executives were asked how they felt about Europe's economic problems. The majority of interviewees said they were conducting business in Europe with extreme caution but had not yet felt a huge impact. Some executives were positive, like David Farr, CEO of Emerson Electric Company: "Europe had gone through two very, very difficult years. I expect Europe to now see some growth from a spending standpoint," Farr said.
Overall, many American companies are keeping a close eye on their foreign trade but have yet to make any final decisions based on the European economy. It looks like many of them are taking a "wait and see" approach. The Europe and U.S. are both in economic tight spots, and some outlooks are hopeful while others are bleak. Only time will tell exactly where we will go from here.
Ask a Question