How to Find Cash Back Debit Cards
Using a credit card to make a good portion of your purchases is, by nature, a bit riskier than using a debit card. If you miss payments or slip up on due dates, you could find yourself in growing debt. On the other hand, credit cards come with some benefits you're unlikely to receive through your debit card. You're much more likely to rack up airline miles, gifts or cash back rewards by swiping your credit card than you are by entering your PIN and using your debit card.
That unfortunate fact is changing for the benefit of the consumer, thanks to several online services.
Non-traditional financial services firms such as Perk Street Financial and PayPal have broken into the cash back debit card market, putting small chunks of change back into customers' pockets.
PerkStreet, PayPal Break the Mold
PerkStreet Financial, which was the subject of a recent feature in The New York Times, is a service backed by Bancorp Bank. PerkStreet offers a simple checking account with a 2% rebate on every dollar spent using its debit card. The 2% rebate on purchases you sign for is much greater than the gifts or cash back rates offered on most rewards checking accounts. If you have the $5,000 account balance required to redeem the cash back reward and you spend $1,000 each month, you could receive $240 extra per year, just for using PerkStreet's checking account and debit card.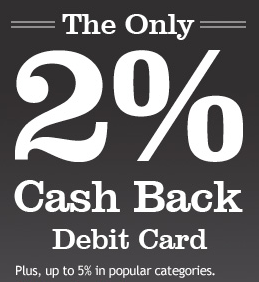 It's easy for banks to give cash rebates on credit card purchases because they make so much money from merchants on credit card interchange fees and the revenue from interest and other fees. Debit cards, which come attached to checking accounts, are a less revenue-heavy proposition for banks, making it tougher and less common for the institutions to offer high-yield checking or cash back checking.
So how does PerkStreet Financial do it? Without the overhead that comes with having physical branches, the online service can apply the $1.30 Bancorp receives on every $100 of purchases more directly to the cost of covering cash back rewards. The service — through Bancorp — also makes money by storing customers' deposits in conservative investment vehicles such as Treasury bills or business loans.
The PayPal debit card is similar to PerkStreet's, although it only offers 1% cash back instead of 2%. As with PerkStreet's card, you need to make sure you sign for your purchase to receive the cash back bonus.
Why Your Bank Doesn't Offer Cash Back Debit
Chances are, you use a bank that doesn't offer a cash back debit card.
Big banks have tried to develop cash back debit plans that bring in enough customers to offset any potential revenue hits, but none have stuck with a cash back rewards rate of better than 1%. Charles Schwab offered a similar product, a Visa credit card that offered 2% cash rebates and deposited the money into a brokerage account. After almost two years of offering the cards, the institution took them off the market after it didn't generate enough revenue.
In the wake of a sweeping financial reform act that curtails banks' ability to profit from merchant interchange fees and some lucrative investment banking practices, big banks haven't sweetened deals for customers. In fact, the opposite has happened: Banks are shying away from free checking, not offering cash rewards on checking accounts.
Have you found any other banks that offer cash back debit cards? If so, tell us in the comments section!
Ask a Question