Gates and Buffett Gather Donations With 'The Giving Pledge'
Bill Gates and Warren Buffett must have some serious telemarketing skills. So far, the pair has recruited 38 of America's richest citizens (40, including Gates and Buffett) to give away at least half of their wealth.
Their efforts are part of what they call "The Giving Pledge," an invitation for the country's wealthiest individuals and families to commit to giving the majority of their wealth to the philanthropic causes and charitable organizations of their choice.
'Pledge' Collects $230 Billion
The pledge, kicked off six weeks ago by Buffett, Gates, and Gates' wife Melinda, has already attracted a list of 40 prestigious names with a combined net worth surpassing $230 billion, according to Forbes. Many have committed to donating much more than half their wealth. For example, Buffett himself plans on giving away 99% of his assets.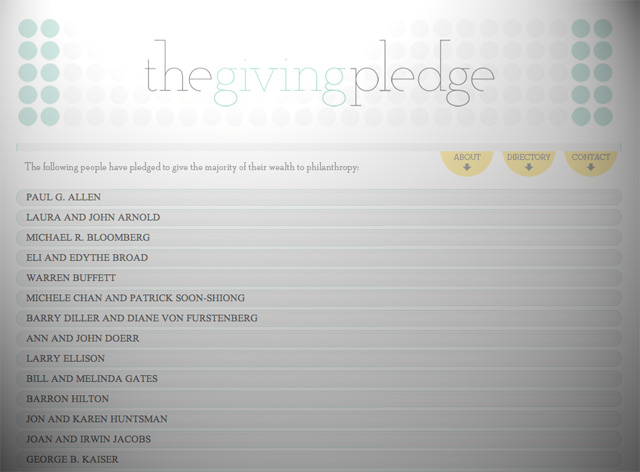 "At its core, the Giving Pledge is about asking wealthy families to have important conversations about their wealth and how it will be used," Buffett said. "We're delighted that so many people are doing just that – and that so many have decided to not only take this pledge but also to commit to sums far greater than the 50% minimum level."
Gates and Buffett must have presented fairly convincing arguments to their wealthy acquaintances. The pair contacted 70 to 80 people on the Forbes list and convinced as many as half of them with what Buffett told Forbes was a "soft sell." The pledge remains a moral commitment to give, not a legal contract, and it does not involve pooling money or supporting a particular set of causes or organizations. The pledge is meant to "address society's most pressing problems," according to a news release.
Who's Donating
The very rich, that's who. Most of the 40 individuals and families on the list are billionaires. Many of the names on the list come from the finance or tech world. One of the most notable public figures taking part in the pledge is New York City mayor Michael Bloomberg. The state with the highest number of wealthy donors was California, followed by New York.
Ask a Question