FDIC 'Safe Accounts Program' Approved, Will Assist Underbanked
Amid all the upheaval at the top of America's economic food chain, it is sometimes easy to overlook the plight of those citizens who are not a part of the banking system at all.
Private companies such as Mango Financial have worked toward finding solutions for America's unbanked population, and now the federal government is helping out. The Federal Deposit Insurance Corporation (FDIC) Tuesday morning approved a pilot program meant to provide safe, low-cost accounts to traditionally unbanked or underbanked citizens.
"Access to mainstream financial services at a federally insured institution provides consumers with a safe place to keep their money and conduct basic financial transactions affordably. Such access can also help consumers build a credit history, access credit on favorable terms, and work toward financial security," Sheila C. Bair, FDIC Chairman, said in a statement.
Program to Help Low-Income Americans
The program, dubbed the Safe Accounts Program, will generate "safe" accounts at certain institutions. The new accounts will be largely electronic to limit maintenance costs and consumer fees. They will be insured by the FDIC, include reasonable rates and fees and have no overdraft or non-sufficient funds fees.
The accounts will be "checkless" and will only allow withdrawals through ATMs or other point-of-sale terminals. Many of the accounts will not include paper statements. Customers will also receive optional financial education or reasonably priced overdraft lines of credit.
These accounts will offer basic, essential services at a low cost to consumers who have been hesitant to open bank accounts in the past.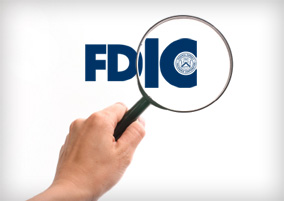 More Than 25% of American Households Underserved
The point of the FDIC's pilot program is to serve people who are currently unbanked or underbanked.
Many low-income individuals shy away from opening official bank accounts because of the fees, which are assessed either monthly or attached to overdraft protection plans. In lieu of opening traditional bank accounts, these people often opt for non-traditional services like payday loan operations or check-cashing centers. A 2008 study by the Pew Charitable Trusts estimated that the average unbanked household in California devotes more than $700 yearly to cashing checks.
That isn't a rare phenomenon, considering 8% of the nation's households do not have a single bank account while another 18% are considered underbanked. More than one-fourth of American households could benefit from these low-cost, FDIC-insured accounts. Households earning less than $30,000 per year make up more than 70% of the nation's underbanked population, hinting at our nation's growing financial imbalance being the reason for the growing number of underbanked households. But making legitimate financial services available to the masses is a positive first step by the FDIC.
For more information, check out this FDIC press release.
Ask a Question